pursuits
Donald Sterling's Wife Owns the Clippers, Too. Can She Stop the Sale?
By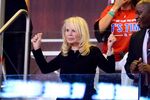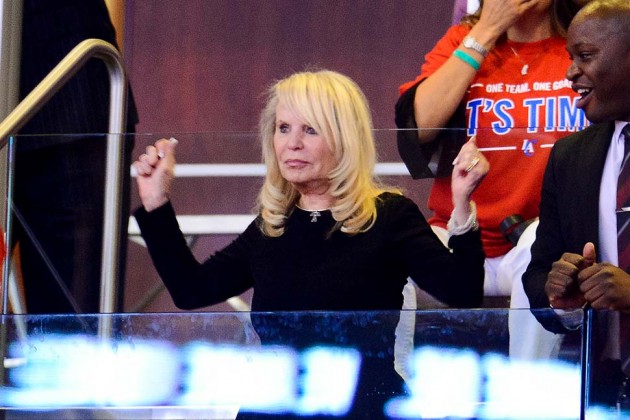 Rochelle Sterling would like everyone to know that she is on board with the National Basketball Association and its ban of her husband, Donald. She would also like to make it known that he is a co-owner of the Los Angeles Clippers. That two-letter prefix could make all the difference.
Shelly Sterling, as she is commonly known, released a statement this weekend expressing her full support for NBA Commissioner Adam Silver in his "swift and decisive action" against her husband. She had already spoken with Silver, the statement explained, and she looked forward to working with him to find "some fresh, accomplished executive leadership for the Clippers." She closed with a small masterpiece of intimation:
"As a co-owner, I am fully committed to taking the necessary steps to make the Clippers the best team in the NBA. That has been my aspiration ever since 1981."
The statement served both to distance Shelly from her disgraced husband and to assert a measure of control over the franchise. In expressing solidarity with the NBA, however, she also positioned herself as its future antagonist.
Sometime soon, league owners will almost certainly vote to force the sale of the Clippers. And it's unlikely they will be satisfied to swap one Sterling for another. Shelly has no part in the recording that caused her husband's downfall, and she has publicly condemned his racist remarks. Yet her own record on race relations is not spotless. However much she seeks to establish a split between herself and Donald, the league will want to throw them out together.
This puts Shelly in a strange legal space. She could wind up joining her husband in action to block the sale of the team while simultaneously accusing him of damaging their joint property. The Clippers are reportedly held by a Sterling family trust that includes both Donald and Shelly. Under California's community property laws, she owns half of their shared assets.
To take independent control of her half of the Clippers under California law, though, Shelly would first have to sue her husband. "The power of a court to do something about community property isn't going to come into play unless somebody files for divorce or one of them brings an action claiming there has been a breach of duty as to that property," says Sharon Kalemkiarian, a certified family law specialist for the California firm Ashworth, Blanchet, Christenson & Kalemkiarian.
Disputes of this kind are usually settled as part of divorce proceedings, but Shelly has already demonstrated an unorthodox approach to community property. Earlier this year she sued her husband's alleged mistress, V. Stiviano, in an attempt to retrieve gifts—cash, a Ferrari, two Bentleys, a Range Rover, and an apartment—that he had given to her.
In the case of the Clippers, Shelly could complain that Donald has damaged the value of their joint property. The remedy in such cases is usually money, but a court could halt any sale of the team while it decided how much. So she could frustrate, or at least delay, the league with an action against her husband.
In a direct challenge to the league, however, she probably has no more or less ability to block a forced sale than does her husband, although it's impossible to say for certain without seeing the agreements between the NBA and the family trust. Most likely the league will take the position that what happens to his property happens to hers. If anybody has done something to harm the value of the Clippers, the league can argue to Shelly, it was her husband. Take it up with him.
And if her public statements so far are any indication, she probably will. Shelly may not be able to stop a forced sale, but she can argue for a bigger piece of the take. "If the sale is forced by the NBA," says Kalemkiarian, "it sure would be surprising if she did not come forward and say I am entitled to 100 percent or something more than 50 percent because he affected the value."
Before it's here, it's on the Bloomberg Terminal.
LEARN MORE