Delta Tries to Stand Out From Big Airlines With Its Bigger Dividend
by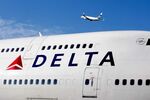 Seeking to further distance itself from the days when investors found airline stocks about as appealing as a middle seat, Delta Air Lines boosted its dividend on Tuesday and announced plans to repurchase $2 billion of its own shares.
The dividend will now pay 9¢ per share, up from 6¢ currently. The $2 billion buyback will be completed by the end of 2016; the current repurchase authorization expires next month. Delta also said today that its net debt would drop to $5 billion by the end of 2016, from more than $17 billion in 2009.
The moves are designed to bolster Delta's argument that its disciplined capacity growth, strong sales, and robust earnings place it among the ranks of what it terms "high quality industrial transportation," no different than a freight hauler such as FedEx or Union Pacific. It's an aspirational phrase the airline launched in December at its annual investor conference.
Delta's free cash flow is likely to double this year, to $3.67 per share, from 2013, Raymond James analyst Savanthi Syth wrote in an April client note. Delta shares have gained more than 38 percent so far in 2014.
The idea of major U.S. airlines paying a dividend is novel to most investors, who have grown accustomed to torrents of red ink across carriers' balance financial reports each time a recession hits. But industry consolidation has given the Big Four remaining airlines their own franchises, and none is keen to lose cash trying to steal much market share. Financial performance has become top priority across the industry.
There has also been speculation that American Airlines—with nearly $11 billion in cash following its bankruptcy reorganization and merger with US Airways—could contemplate a dividend this year. Southwest Airlines brags that it has paid a quarterly dividend for 38 years. Last year, Southwest also bought back $540 million worth of its own shares. Southwest is likely to raise by a penny its 4¢ dividend, according to forecasting data compiled by Bloomberg.
In January, meanwhile, Allegiant Travel paid a special $2.25 per share dividend but has no regular dividend payment. The airline's board said it will consider future dividend payments "as circumstances warrant." Spirit Airlines, another high-growth, low-cost carrier, has no dividend.
Before it's here, it's on the Bloomberg Terminal.
LEARN MORE