China's Premier Li Goes to Africa
Christina Larson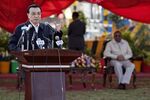 Chinese Premier Li Keqiang is visiting Ethiopia, Nigeria, Angola, and Kenya this week in his first trip to Africa since assuming office. Accompanying him is his wife, Cheng Hong, who is making her first public appearance on a diplomatic mission—and a splash in China's domestic media, given the relative novelty of top leaders' wives appearing in public in official roles.
Over the past decade, China's economic ties to Africa have grown quickly. Trade has risen (PDF) from $10 billion in 2000 to $166.3 billion in 2011. Meanwhile China's foreign direct investment in Africa has jumped from $392 million in 2005 to $2.5 billion in 2012, according to figures from China's commerce ministry. Much of that money has gone to infrastructure projects, including roads, dams, mines, and oil rigs.
On Monday in Addis Ababa, Ethiopia's capital, Li laid out his vision for the future of China-Africa relations. Speaking at the headquarters of the African Union, he said he imagined a day when all African capitals would be connected by high-speed rail—quickly adding that China's experience and technology could "help make this dream come true," according to state-run newswire Xinhua.
A 2011 study by the International Monetary Fund found that nearly 30 percent of Chinese investment in Africa went to mining. Hoping to deflect criticism that China is jeopardizing Africa's environment for its own gain, on Monday Li pledged $100 million in aid for wildlife-protection projects in Africa.
Over the past year, Beijing has also taken a greater role in security affairs in Africa, including the dispatch of fleets to escort more than 5,000 commercial vessels around the Gulf of Aden, a major energy shipping route, according to a new policy briefing by Brookings Institution scholar Yun Sun.
Before it's here, it's on the Bloomberg Terminal.
LEARN MORE