Can Jeep Make It Into the Mainstream? Fiat Thinks So
by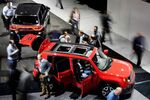 Fiat, it turns out, is no different than any other proud new owner of a big SUV. It has tooled around town the Jeep brand it bought in full this fall, and now it wants to see just how fast and far afield its shiny new machine can go.
In a wide-ranging and ambitious corporate road map revealed on Tuesday, Jeep is touted as Fiat's linchpin—the "lead global brand." The company said it's on track to sell 1 million Jeeps this year and hopes to torque that figure up to 1.9 million by 2018 (PDF). The plan calls for about 1,300 Jeep dealerships, which would be a 28 percent increase from its current footprint. All told, Fiat plans to pour $2.9 billion into the rugged badge.
It's not shocking that Fiat is turning to Jeep to drive growth. In recent years the brand has handily outperformed its corporate siblings and the Italian parent's slate of tiny cars. The company sold 732,000 Jeeps last year, almost double the number bought in 2010. Sales of Fiat's in-house brand slid 12 percent over the same span, according to data compiled by Bloomberg. In the U.S. this year, Jeep has zoomed past Dodge by selling almost 206,000 vehicles from January through April.
 


Why such a strong performance? Jeep is making some fairly sound vehicles—the Grand Cherokee, in particular, has been highly praised by car scribes—and there isn't really anything like Jeep at the moment.
Jeeps are nicer than most entry-level autos yet still more affordable than the thoroughbred German brands. They're also plenty sturdy and safe—or, in the words of Fiat's marketing team, the vehicles are meant for "boundless freedom, responsible adventure." Perhaps the closest analog is Subaru, another utility specialist that currently can do no wrong. In April, both brands posted their best sales month ever.
Ramping up production has always been a fraught route in the car business, and doing so for SUVs has proven particularly dangerous. The question for Jeep, and any niche brand for that matter, is whether it can make the move to mainstream. Even at 1 million vehicles this year, Jeep's output is only about one-tenth that of Toyota Motor.
Do twice as many people want a Jeep? Fiat is betting on it, with plans to roll out a few new models meant to widen the appeal. In 2016 there will be seven different Jeeps in all. The recently unveiled baby Renegade will woo city dwellers and entry-level buyers, while the Grand Cherokee will pick up those looking for a stately and swanky ride that has seat-back video screens for the kiddies. The space in between will be crammed with its rugged Wrangler, the Patriot, the Compass, the Cherokee (another all-new offering), and a mystery crossover the company only hinted at today.
It doesn't matter how free and adventurous Fiat's target customers are: At some point they'll be jumping only from one Jeep to another.
Before it's here, it's on the Bloomberg Terminal.
LEARN MORE