Son Set for Key Alibaba Role With Board Seat, Stake
Grace Huang and Lulu Yilun Chen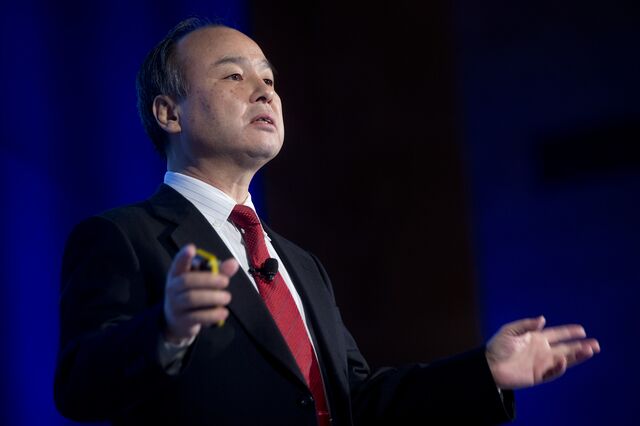 Billionaire Masayoshi Son is set to play a major role in Alibaba Group Holding Ltd. after its initial public offering, with his SoftBank Corp. guaranteed a board seat and backing the e-commerce company's partnership.
SoftBank also will remain the largest investor, keeping its stake above 30 percent, the Hangzhou, China-based company said in a filing yesterday. Alibaba didn't specify the number or price of shares it will offer or what valuation it will seek. The filing has a $1 billion placeholder amount, which is used to calculate registration fees and will change.
Alibaba has been a success for SoftBank, which owns 34 percent of China's largest e-commerce operator after leading a $20 million investment in 2000 that was followed by other stakes, according to the filing. The holding may be worth $58 billion, based on analyst valuations, and adds to a portfolio that includes control of Sprint Corp., the No. 3 U.S. carrier; Yahoo Japan Corp.; and about 1,300 other businesses.
"Son doesn't want to stop at being the world's No. 1 mobile carrier, he aims to become the world's No. 1 company," said Satoru Kikuchi, an analyst at SMBC Nikko Securities Inc. in Tokyo. "To do that, he needs growth from Internet companies, so Alibaba is important for Son."
SoftBank will be guaranteed a board seat as long as it holds at least 15 percent of Alibaba, according to the filing.
Sprint, Yahoo
Yahoo! Inc. is the second-largest investor in Alibaba at almost 23 percent, while Alibaba Chairman Jack Ma has an 8.9 percent stake and Vice Chairman Joe Tsai holds 3.6 percent.
Alibaba's market value is estimated at $168 billion, based on the average estimate of 12 analysts surveyed by Bloomberg News. That makes it bigger than 95 percent of the Standard & Poor's 500 Index and the most valuable Internet company after Google Inc., according to data compiled by Bloomberg.
The company's partnership has the exclusive right to nominate a majority of its board of directors, the company said. Alibaba failed to persuade Hong Kong regulators to change rules to give Ma and other executives a unique way to control the company.
Partnership Structure
The partnership has 28 members and will elect new ones each year. Those members are required to maintain a "meaningful level of equity interest" in the company, with the structure enabling Ma and his management team to keep control. The partnership system was started in 2010, and its members include Tsai and Chief Executive Officer Jonathan Lu.
Once the partnership nominates directors, ordinary shareholders will be able to vote for the nominees.
"Both SoftBank and Yahoo will agree to vote their shares in favor of the Alibaba partnership director nominees at each annual general shareholders meeting," according to the filing.
Over three decades, Son used borrowed money to transform the software wholesaler he founded in 1981 into a phone company spanning two continents. In Japan, he built a challenger to the former state-run carriers and was first to bring Apple Inc.'s iPhone to the country.
Son's biggest bet so far was last year's $22 billion deal for control of Sprint, which gave SoftBank access to about 50 million U.S. subscribers. He followed that by leading deals for control of Finnish gamemaker SuperCell Oy for $1.5 billion and U.S. mobile phone distributor Brightstar Corp. for $1.3 billion.
Before it's here, it's on the Bloomberg Terminal.
LEARN MORE