pursuits
A Suit Designed for Biking to Work and Taking Meetings
By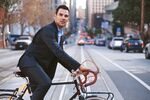 Biking to work in most U.S. cities presents a long list of roadblocks topped, at least outside Portland, by the lack of designated bike lanes and the risk of injury because of missing infrastructure. Then there are the fashion hazards involved. What's comfortable to wear for cycling—think spandex shorts—isn't appropriate for the office.
"The biggest common complaint [cyclists] have is that they have to change their clothes once they get to work," says Vaughn Brown, whose San Francisco-based company, Parker Dusseau, attempts to address that bugaboo with the Commuter Suit, combining the look of a well-tailored two-piece with the stretch of workout clothes. The inspiration, says Brown, was to make "clothing that allowed me to be active but also allowed me to look the way I want to look."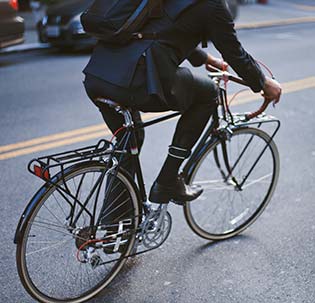 To do that, he souped up a merino suit with some clever, high-performance details. The pant has a gusset (a diamond-shaped piece of fabric) in the crotch, instead of a four-way seam, which provides flexibility and comfort, and two strips of rubber in the interior waistband keep dress shirts tucked in. The legs can be rolled up and fastened with a button to keep them from getting caught in the spokes. To prevent split seams, the jacket is lined with an athletic mesh that stretches across the wearer's back when hunched over handlebars. Reflective strips for night visibility can be exposed with a flick of the collar and cuffs or by pulling out pocket flaps.
The Commuter isn't not a total reinvention of menswear, but it is a clever take on a clothing staple for a growing niche market. Even notoriously un-bike-friendly New York has a popular, if financially troubled, bike-sharing system. Of course, like most well-made suits, it's spendy—$485 for the jacket, $245 for the pant—and won't erase all sartorial dorkiness from the two-wheeled commute. For that, you will need to spend even more on an invisible helmet.
Before it's here, it's on the Bloomberg Terminal.
LEARN MORE