Why China Isn't Worried About Slowing GDP: Jobs Strength
by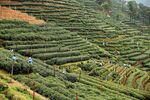 Even as China's economy continues to show signs of a slowdown, Beijing has avoided rolling out any big new stimulus programs; that's in direct contrast to its pump-priming response during the 2008 global financial crisis.
Why the apparent lack of worry? It's got everything to do with jobs. In the first quarter, China created 3.44 million new urban jobs, 40,000 more than a year earlier. China has said for the full year it wants to create at least 10 million new positions—that target now looks easily reachable.
"GDP growth has halved since peaking above 14 percent in 2007. But, with a greater share of output coming from more labor-intensive sectors, and the economy itself much larger, more new jobs are being created today," wrote economists Mark Williams, Qinwei Wang, and Julian Evans-Pritchard, at London-based Capital Economics, in a May 2 note.
What businesses in particular are demanding ever more workers? One broad source of new jobs has been the fast-growing service sector, which last year for the first time surpassed the industrial sector to become the largest contributor to gross domestic product. (While the industrial portion reached 43.9 percent of the economy, the "tertiary industry" accounted for 46.1 percent, China's national statistics bureau reported.)
As the Capital Economics economists pointed out, while the two spheres back in 2012 each accounted for about 45 percent of the economy, their jobs-generating ability diverged: Services hired about 37 percent of all employees, while industry, by contrast, hired only 30 percent. Meanwhile, agriculture, making up only about 10 percent of the economy, is still a big employer, with close to one-third of jobs still in farming.
Also important is the overall composition of each sector. Light manufacturing industries including textiles are labor-intensive, for example. Meanwhile, chemical, metals, and minerals, and utilities are much more capital-intensive and not good job creators. As China tries to curb its polluting heavy industries, the impact on jobs shouldn't be too severe.
Despite the relatively positive outlook, things could go wrong. The biggest worry lies in real estate. "The property sector, which is highly labor intensive, should be watched closely," said the Capital Economics report, citing weak sales and growing oversupply as warning signs. Construction, after factory jobs, is the largest employer of China's 270 million migrant workers.
Before it's here, it's on the Bloomberg Terminal.
LEARN MORE