Republican Civil War Peaks as Primaries Test Tea Party
John McCormick and Greg Giroux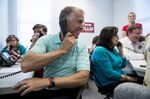 Defining battles in a Republican Party feud will play out during the next month in primaries that will help determine control of the U.S. Senate and shape the party's priorities before the 2016 presidential campaign.
Starting with North Carolina's election tomorrow, these contests will decide whether the business-backed wing of the party has regained momentum over the limited-government Tea Party movement after a split erupted last year between the two over the importance of lifting the nation's debt ceiling.
"It's show time," said Scott Reed, a political strategist for the Washington-based U.S. Chamber of Commerce. "May and early June is a critical time for candidate selection, if we're going to have success in the fall."
Candidates supported by the chamber, the nation's largest business lobbying group, and its Republican allies are holding an advantage on the eve of the first test, after applying lessons learned from fights with the Tea Party in the 2010 and 2012 elections that likely cost the party control of the Senate.
"It's hard to see a scenario where we have the types of primary outcomes that can cost us seats this cycle," said Brian Walsh, a strategist and former spokesman for the National Republican Senatorial Committee. "Generally, every incumbent early on recognized that they had to prepare for a primary. They raised the money, they organized early and they put together strong campaign teams."
Walsh downplayed the importance of the Tea Party-aligned groups in Republican politics.
Influence Overstated
"Their influence in terms of on-the-ground activity and spending money is greatly overstated," he said. "They don't raise or spend a whole lot of money on races. Their influence has generally been in the echo chamber, with talk radio and blogs."
Sal Russo, chief strategist of the Sacramento, California-based Tea Party Express, a political action committee, said it's too early to write off the movement.
"Some of the more establishment candidates are going to win in some states and some Tea Party candidates are going to win in some other states," he said.
Reed, Walsh and other Republicans are working to avoid the nomination of candidates who are untested and vulnerable to losing to Democrats in the November general election.
In 2012, for instance, Senator Richard Lugar of Indiana, a six-term Republican, lost in a primary to a Tea Party-backed candidate, who then was defeated in the general election by Democrat Joe Donnelly. Two years earlier, then-U.S. Representative Mike Castle of Delaware was beaten in a Republican Senate primary by Christine O'Donnell, a Tea Party favorite who during the general election campaign was forced to deny she was a witch. She lost to a Democrat.
Multiple Races
This year, Tea Party-aligned Senate candidates in North Carolina, Kentucky, Mississippi, Georgia and elsewhere have failed to spark the kind of electoral energy their predecessors did in 2010 and 2012.
"I think we are going to learn that maybe the enthusiasm for the Tea Party isn't what it was," said Jennifer Duffy, who studies Senate races as a senior editor for the nonpartisan Cook Political Report in Washington. "But anyone who proclaims the Tea Party dead is mistaken."
Nominating the strongest candidates to compete against Democrats in November's election is essential because there's little room for error if Republicans are to secure the net gain of six seats they need to win control of the Senate.
Democratic Challenge
Republicans sense both opportunity and urgency in their bid to capture the Senate with President Barack Obama's approval rating in the low-to-mid 40s, historical trends favoring the opposition party in lower-turnout midterm elections, and Democrats defending 21 of the 36 seats on the ballot, including seven in states the president lost in 2012. The map becomes more difficult for Republicans in 2016, when the party will be defending more than twice as many seats as Democrats.
A potential complication for Republicans is that several of the states where they have contentious primaries -- including North Carolina, Georgia and Iowa -- could cost the party time and money if runoffs are triggered because no candidate wins enough of the vote in a crowded field.
With so much at stake, tens of millions have already been spent by competing Republican factions in an election year poised to set records for outside-group involvement.
The U.S. Chamber has been among the biggest non-candidate spenders working to influence the primaries. On the opposite side have been such pro-Tea Party groups as the Washington-based Club for Growth.
North Carolina
This year's Republican in-fighting is epitomized in North Carolina, where Thom Tillis has been labeled "Big Business Tillis" by FreedomWorks, a limited-government advocate based in Washington.
Tillis, the speaker of the North Carolina House and a former partner at business consultant PricewaterhouseCoopers, has been endorsed by the chamber.
He has tried to balance support from national Republicans against the Tea Party's anti-Washington instincts. Fundraisers he held late last year with Karl Rove, former President George W. Bush's key political adviser, turned off activists in the limited-government movement.
Tillis is the primary's frontrunner, although he needs to secure 40 percent or more to avoid a July 15 runoff. That could prove difficult in a race that includes eight candidates.
If Tillis is forced into a runoff, Reed estimated that $15 million to $20 million in Republican-affiliated resources that could otherwise be focused on vulnerable incumbent Senator Kay Hagan might be spent on the race.
Saving Money
"It's entirely been about trying, if possible, to avoid a runoff," said Steven Law, chief executive officer of American Crossroads, a super-political action committee affiliated with Rove that has backed Tillis. "That just gives us a lot more time for Tillis to reload financially and to avoid a protracted ideological fight within the party. And it puts us in a position to get going after Hagan much earlier."
The North Carolina race also pits two Republican leaders -- U.S. Senators Mitch McConnell and Rand Paul of Kentucky -- against each other.
McConnell, the Senate minority leader, has backed Tillis. Paul, a potential 2016 presidential candidate, has endorsed Greg Brannon, a Tea-Party aligned contender. Paul is scheduled to appear with Brannon in North Carolina today.
Other potential 2016 Republican presidential candidates have also put their names on the line in the race. Former Florida Governor Jeb Bush endorsed Tillis, while former Arkansas Governor Mike Huckabee is backing Mark Harris, a fellow Baptist pastor.
Next Round
The North Carolina primary isn't a "full showdown" because his and other Tea Party groups didn't weigh into the race, Russo said.
After North Carolina, May 20 primaries in Kentucky and in Idaho, for a House seat, will also provide clues to which side is gaining in the power struggle.
In Kentucky, McConnell is expected to easily beat Matt Bevin, a Tea Party aligned candidate, before he confronts a more serious challenge from Alison Lundergan Grimes, the state's Democratic secretary of state, in November's election.
One of the biggest tests for Tea Party-aligned groups will come in the primary in Idaho, where both state and national business groups as well as 2012 Republican presidential nominee Mitt Romney are backing Representative Mike Simpson, an Appropriations subcommittee chairman and ally of House Speaker John Boehner.
Idaho Showdown
Club for Growth and other Tea Party groups are backing Bryan Smith, a lawyer and political novice aligned with the limited-government movement. They've been critical of Simpson for being the only member of the current Idaho congressional delegation who in 2008 backed the $700 billion Troubled Asset Relief Program bailout of financial markets.
Primaries in Georgia and Mississippi will also test Tea Party strength.
In Georgia, the Republican May 20 primary is jammed with seven candidates, including some with strong Tea Party allegiances. Analysts are projecting that it is almost certain to go to a July 22 runoff before someone is picked to compete with Democrat Michelle Nunn.
On June 3, six-term Senator Thad Cochran in Mississippi is facing what Duffy and other analysts consider one of the stronger Tea Party challenges from state Senator Chris McDaniel.
Before it's here, it's on the Bloomberg Terminal.
LEARN MORE