New York's Teachers Are Getting Raises Back to 2009. Does That Make Sense?
By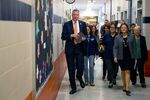 Last week, New York City and the United Federation of Teachers, which represents some 200,000 city school workers, reached a new labor agreement that would raise wages by 18 percent over nine years in exchange for a $1.3 billion reduction in health care costs, according to the New York Times. The deal, which was heralded as a template for future labor negotiations, includes retroactive annual raises of 4 percent starting in 2009, a year when the U.S. economy cratered. That leads to an obvious question: Would a 4 percent raise in 2009 have made any sense?
Off the cuff, the answer would seem to be a definite no. It's no secret that people were losing their jobs and median household incomes were dropping. However, for people who still had a job, the average income of their positions did rise. Two reasons stand out. First, less-experienced workers are ordinarily the first to be let go. Without their lower salaries in the workforce, the average incomes of those who remained were higher. Second, most workers who managed to keep their jobs received some nominal raises—perhaps not enough to keep up with inflation, but something. As a result, the average income of most jobs rose in 2009 compared to 2008. Here's a small sample:

You'll see a selection of jobs above, along with the increase in annual income for each. Flight attendants are a good example. The average income of the people who remained employed jumped over 8 percent—even as the total number of flight attendants dropped 4 percent. Those who were able to keep their jobs had longer tenure and were higher-paid, bringing up the average.
Based on the data, a 4 percent retroactive raise for NYC teachers going back to 2009 might not be as unreasonable as it first looks.
Before it's here, it's on the Bloomberg Terminal.
LEARN MORE