Einhorn Plays Athenahealth for Laughs and Decimates Its Shares
by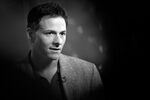 David Einhorn has earned the cleanup spot in the batting order at the Ira W. Sohn Investment Research Conference. It was at the 2002 Sohn event—an annual gathering for money managers to present to an audience of lesser money managers ideas about money—that the hedge fund billionaire shot to fame with a takedown of lender Allied Capital. In 2008, Einhorn returned to eviscerate Lehman Brothers, giving a presentation that is legendary in Wall Street circles. And in 2012, when Einhorn wanted to put his stock-demolishing prowess to creative use, he chose the familiar Sohn podium to give Apple advice on what to do with its balance sheet.
Speaking in the final slot again at this year's confab, held Monday at New York's Lincoln Center, Einhorn redeemed a largely uneventful day with a devastatingly funny presentation on Athenahealth, a service provider for doctors and hospitals. It is an "excellent company with an excellent product," Einhorn said. Yet he thinks the stock could decline as much as 80 percent.
As he dismantled the bull case for Athenahealth and then mounted a lengthy bear case, Einhorn repeatedly turned for help to none other than Athenahealth Chief Executive Jonathan Bush when he played embarrassing video clips of the high-strung CEO. Bush was shown spouting techo-verbiage at various interviewers and acknowledging that his company was not worth its valuation. The snappily cut footage, complete with freeze frames of Bush looking foolish with his mouth open, lent the presentation a Daily Show-esque vibe. It's a new way for Einhorn and his $10 billion Greenlight Capital hedge fund to publicize short sales.
Athenahealth, based in Massachusetts, is a six-year-old company that employs almost 3,000 people. Its shares fell as much as 13.5 percent in after-market trading on Monday.
During Einhorn's talk, the Lincoln Center crowd laughed its appreciation after a slate of speakers that this year largely avoided making news. The presenters were nearly all male, like the audience. At one point I craned my neck as far as I could in both directions and spotted seven women, one of whom was an usher, amid hundreds of men. Between speeches the line for urinals spilled out into the hallway.
Bill Ackman, another hedge fund billionaire who often uses conferences such as Sohn to gin up attention for his investments, gave a subdued, 110-slide presentation on Fannie Mae and Freddie Mac. Zach Schreiber of PointState Capital advised the crowd to short crude oil. James Grant, editor of the obscure-but-influential Grant's Interest Rate Observer newsletter, appeared in his trademark bow tie to muse on Gazprom, the Russian natural gas giant.
By far the most lifelike speaker of the day was Elana Simon, age 18, a cancer survivor who spoke about her experience and the research she hopes to do as a scientist. The Sohn conference raises money for the treatment of pediatric cancer.
Events like Sohn—which can resemble talent shows, with processions of performers eager to show off their analytical tricks—can often fool attendees into thinking the ideas on view are smarter than they really are. As Marketwatch noted before the conference, some of last year's recommendations failed miserably, including Doubleline Capital founder Jeff Gundlach's recommendation to short Chipotle Mexican Grill, which then rose 38.5 percent over the year.
(Updated to correct name of Schreiber's fund.)
Before it's here, it's on the Bloomberg Terminal.
LEARN MORE