De Blasio Unveils $41 Billion Plan for Affordable Housing
Henry Goldman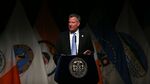 New York Mayor Bill de Blasio presented plans to build and preserve 200,000 units of affordable housing in the next decade by increasing rent protections for the poor and requiring developers to include below-market apartments in newly zoned areas.
The $41.1 billion program, paid for with city, state, federal and private funds, would focus 60 percent on preservation and 40 percent on new construction. About $8.2 billion of the cost would be borne by the city, according to a 116-page report detailing the plan, which de Blasio called the "largest, fastest" affordable-housing program ever attempted at the local level.
De Blasio, 52, a self-described progressive and the city's first Democratic mayor in 20 years, took office in January after describing income inequality as the most serious issue facing the most populous U.S. city. He turned his attention to housing today after pushing the state legislature in March to grant the city $300 million to institute universal all-day pre-kindergarten.
"In a progressive city, everyone should have the opportunity for affordable housing, and that's what this plan sets out to achieve," de Blasio said today at a Brooklyn news conference. "It's a housing plan, yes, but it's also a plan to address income inequality."
Inclusionary Zoning
The 10-year plan was drafted under the supervision of Alicia Glen, de Blasio's deputy mayor for housing and economic development, and a former executive at Goldman Sachs Group Inc. Goals include a 200 percent increase in "very-low income" housing, defined as serving a four-person household earning $25,151 to $41,950 a year, and a 50 percent increase in "moderate-income" units for households with $67,121 to $100,680 a year.
The mayor's proposals include "mandatory inclusionary zoning," in which developers would be required to build a certain percentage of low- and moderate-income housing in buildings that benefit from zoning changes that lift height restrictions.
De Blasio's plan "identifies the problems and provides a realistic road map for solutions," said Steven Spinola, president of the Real Estate Board of New York, a trade association. He said the board would work with the mayor to implement the plan.
Tenant Protection
City planners will embark on a citywide effort to identify locations near mass transit access that may be appropriate for high-rise development that would include affordable units. Developers required to restrict the cost of some of those units would benefit from new rules aimed at reducing costly delays by streamlining regulatory procedures, according to the report.
It would also double the city's capital funding for housing to about $6.7 billion over the next 10 years. About $30 billion in private capital would be sought from banks, pension funds and bond investors, according to the plan.
To protect tenants, city officials will "use every tool at its disposal" to prevent landlord harassment in rent-regulated buildings, according to the report. Landlords would also receive incentives to hold off on rent increases.
Koch Legacy
Former Mayor Edward Koch, who served three terms from 1978 through 1989, created a program that built at least 190,000 units over 16 years, according to Wiley Norvell, a de Blasio spokesman. The Koch plan used $5.1 billion on housing subsidies for poor and working families, said George Arzt, who was Koch's press secretary. De Blasio's plan would eclipse Koch's program in number of units and speed of execution, according to de Blasio's office.
De Blasio's plan for mandatory inclusionary zoning would build on a similar but voluntary program instituted by his predecessor, former Mayor Michael Bloomberg, founder and majority owner of Bloomberg News parent Bloomberg LP, who built and renovated about 165,000 affordable-housing units, spending $5.3 billion in city funds to leverage another $18.3 billion in private and other government investment.
De Blasio, a regional director for the U.S. Housing and Urban Development department in the late 1990s under then-Secretary Andrew Cuomo, now New York's governor, also visited the Bronx today to dramatize the city's housing shortage and promote his program.
The report accompanying the plan credited housing advocates, the city's five borough presidents, city council members, labor leaders, 13 city agency heads, real estate developers and nonprofits for helping to create the set of more than 50 initiatives, many of which will require council and state legislative approval.
Homeless Shelters
Other goals include preventing and reducing homelessness, increasing supportive housing for the disabled and ill and providing more choices for senior citizens, according to the report.
More than 50,000 sleep in homeless shelters, according to the city's Department of Homeless Services. About a third of the city's 8.4 million residents spend at least half of their income on rent, according to the city's Rent Guidelines Board. De Blasio has called for more rent subsidies to tenants as a homeless prevention strategy.
Pension Investment
About 360,000 apartments that rented for $400 to $1,000 a month disappeared during a 12-year period beginning in 2000, as the median rents jumped 31 percent, to $1,100 from $830, in the same period, city Comptroller Scott Stringer said in an April 23 report.
As comptroller, Stringer acts as investment adviser to the city's five pension funds, which control a total of about $150 billion in assets. De Blasio has advocated investing about $1 billion in affordable housing. New York's pensions for police officers, firefighters, teachers, school administrators and civil employees have been investing in affordable housing and economic development since 1981.
As of Dec. 30, the funds had placed about $1.2 billion in similar investments, with a 10-year annualized return of 5.85 percent after fees, compared with a 4.52 percent return for its benchmark, the Barclays U.S. Aggregate Bond Index, according to city records.
Before it's here, it's on the Bloomberg Terminal.
LEARN MORE