China's Millennials Can't Afford Homes in Beijing (Without Daddy's Help)
Christina Larson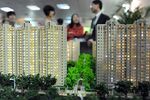 For many young professionals in Beijing, the dream of owning a home feels increasingly remote. Soaring home prices—driven in large part by the popularity of real estate as an investment vehicle in China—mean that even relatively successful young workers find it hard to climb onto the housing ladder in leading cities.
According to a recent study by the University of International Business & Economics in Beijing, fewer than a quarter of college-educated, employed professionals in Beijing age 34 and younger are homeowners. Those with relatives in the capital city often reside with family members. Others rent apartments—paying, on average, 37 percent of their monthly income in rent.
Of those young respondents who were homeowners in Beijing, fully three-quarters said they received substantial help from their parents or other family members. And of those, 25 percent said their parents had paid the full price of their home outright in cash.
The financial wherewithal of the prior generation is "playing a decisive role" in determining which young people are able to sign property deeds, as "support from parents is a crucial way to obtain a house," the report concluded.
In other words, class mobility is apparently shrinking—at least for young people trying to make it on their own in China's most expensive cities.
Before it's here, it's on the Bloomberg Terminal.
LEARN MORE