technology
Amazon and Twitter Offer Online Shopping Feature That China Has Had for Years
By
Amazon and Twitter Offer Online Shopping Feature That China Has Had for Years
By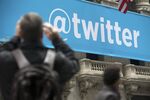 Sina Weibo is often described as the "Twitter of China." Today, the real Twitter took a page out of its Chinese counterpart's playbook.
Twitter users in the U.S. can now save items to their Amazon.com accounts for purchase by replying to product-related tweets with the hashtag #AmazonCart. (Good news for Brits: It's #AmazonBasket over there, because the phrase "shopping cart" is apparently more of a Yank thing.)
This comes about two years after Sina Weibo, China's largest microblogging site, gave users the ability to browse nearby goods and purchase them from within its mobile apps. Sina teamed up with Alibaba Group to integrate products sold by merchants on Taobao Marketplace, the country's largest e-commerce website.
Since then, the two Chinese tech giants have increased their collaboration. After Alibaba's $586 million investment in Sina's Weibo in 2013, they've added a "Buy" button underneath links to Taobao products on Weibo. The microblogging site also allows users to plug in their Alipay accounts to check out using the same payments service they use on Alibaba. The move into e-commerce has been a lucrative one for Sina's Weibo, which went public last month. Alibaba accounted for 43 percent of Weibo ad revenue over the holidays, according to a report by Bloomberg Industries.
Silicon Valley loves to portray China as a nation of copycats, but you don't hear as much about the times when the Valley does some "fast following" of its own — or in this case, slow following. Twitter may be banking on a similar business model as Sina with the Amazon tie-up. Twitter isn't getting a cut of individual sales, but Amazon plans to increase its spending on Twitter ads, a person with knowledge of the matter told Bloomberg News today.
Twitter didn't immediately respond to a request for comment. Julie Law, a spokeswoman for Amazon, said, "We are not focused on competitors. We are laser focused on giving our customers the best discovery and shopping experience while they are on Twitter."

Twitter better hope its mobile-messaging rivals don't catch onto what's happening in China. Tencent has put pressure on Sina and Alibaba by adding shopping services to WeChat, which the Chinese have been eagerly embracing. Don't be shocked if Facebook will one day be asking you to buy your shoes on WhatsApp.