Kenyan Capital Hit by Blasts Day After Explosions in Mombasa
David Malingha Doya and Joseph Burite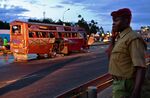 At least two people died in explosions on passenger buses in the Kenyan capital, Nairobi, a day after twin blasts killed four people in the port city of Mombasa.
Bombs detonated yesterday on two buses traveling on Thika Road, the main highway that links Nairobi with central Kenya, Mwenda Njoka, a spokesman for the Interior Ministry, said by phone from the city. As many as 77 people received treatment in the hospital, Kenya Red Cross said on its Twitter account.
Kenya has faced a growing number of attacks since sending troops to fight Islamist militants in neighboring Somalia three years ago. In September, an attack on Nairobi's Westgate mall killed at least 67 people. Al-Shabaab, a Somali militia affiliated with al-Qaeda, took responsibility for that attack, saying it was in revenge for Kenya's troop deployment. Kenyan President Uhuru Kenyatta has vowed to step up efforts to defeat "terrorism."
On May 2, Kenyan police shot dead two suspected militants thought to have been planning an attack on Kenya Power and Lighting Co. power plants in northeastern Kenya, David Kimaiyo, inspector general of the National Police Service, said in a statement handed to reporters in Nairobi yesterday. Police officers from Mandera and Wajir counties also seized weapons and ammunition in the operation, he said.
Twin Bombings
The twin bombings at a bus station and near beach resorts in Mombasa, which left 28 people injured, are under investigation, Kimaiyo said, without giving further details. The city is home to East Africa's biggest port.
Kenyan security agencies last month began Operation Usalama Watch aimed at curbing illegal immigration and tracking down criminals. A sports stadium in Nairobi was converted into a temporary detention center to help process the more than 3,000 people rounded up in the operation.
At least 225 mainly ethnic Somalis have been deported as of April 16 and another 281 urban-based refugees were sent to designated northern Kenyan refugee camps in line with a directive by the government to address security challenges.
"This operation will continue to be intensified," Kimaiyo said.
Somalia Prime Minister Abdiweli Sheikh Ahmed last week joined human rights groups in expressing concern over the mass detentions of Somali citizens in Kenya, including that country's political consular in Nairobi.
Before it's here, it's on the Bloomberg Terminal.
LEARN MORE