The U.S. Now Has a Strategic Gasoline Reserve. It's About Time
By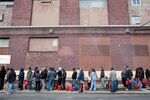 One of the biggest problems following Hurricane Sandy, not only for New York but for the entire Northeast, was the utter lack of gasoline. The region is home to one of the country's largest hubs of refineries. But as Sandy bore down, they all had to shut in and brace for the impact. In the storm's wake, with power out across the region, most refineries stayed dark.
Pump stations along the major pipelines that feed the region with fuel didn't work, meaning the gasoline couldn't flow from the Gulf Coast. Tankers laden with fuel were stranded in the New York Harbor, unable to deliver their product because of the damage to the import terminals. In short, the entire Northeast energy distribution system was knocked out. For days. It didn't return to normal for more than a month.
A year and a half later, the Department of Energy is addressing what's been apparent ever since: The region needs its own strategic reserve of fuel—not an oil reserve, but a gasoline reserve. On May 2, Energy Secretary Ernest Moniz announced the creation of the country's first strategic gasoline reserve.
Drawing on "lessons learned from the major fuel supply disruption in the aftermath of the storm," the energy department will create two separate reserves: one in New England and one near the New York Harbor. Each one will store 500,000 barrels of gasoline. In the grand scheme of things, it's not a lot. But it's enough to provide emergency vehicles the fuel they need to operate, something they had problems with during Sandy.
You could argue that every region needs its own strategic gasoline reserve. For nearly 40 years, the U.S. has maintained the Strategic Petroleum Reserve, a giant cache of about 700 million barrels of oil stored in a handful of salt caves along the Gulf Coast. But that oil is practically useless in times of extreme emergencies if it can't be refined.
The energy department says the Northeast gasoline reserve will be in place by the end of this summer. Just in time for hurricane season.
Before it's here, it's on the Bloomberg Terminal.
LEARN MORE