NATO Is Getting Distress Calls From Eastern Europe. How Should It Reply?
By and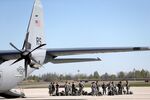 The North Atlantic Treaty Organization has ranged as far abroad as Afghanistan and Iraq in recent years. Now the crisis in Ukraine is pulling it back to the mission that led to its creation 65 years ago: defending Europe's eastern rim against Kremlin expansionism.
The U.S., Britain, and some other NATO members began deploying troops and fighter jets to Poland and the Baltics last month. Now leaders of these and other central and eastern European countries, which joined the alliance after the fall of the Soviet Union, are asking for even more support. The prime minister of Latvia, which borders Russia, this week said she'd like to have a permanent U.S. military base there.
"The main purpose of the alliance may now shift back to what it was during the Cold War: collective defense," says Steven Pifer, a former U.S. ambassador to Ukraine who's now a senior fellow at the Brookings Institution. "You are going to see some kind of permanent NATO presence" across central and eastern Europe, he predicts.
NATO pledged in a 1997 cooperation agreement with Russia that it wouldn't station "substantial combat forces" in central and eastern Europe. But alliance leaders say Russia's actions in Ukraine have effectively voided that promise, which the agreement said was based on the "current and foreseeable security environment" in the region. Alexander Vershbow, NATO's deputy secretary general, said in Washington this week that while the alliance would honor the pledge for the time being, "we would be within our rights even now" to reconsider it.
Beefing up NATO's presence in the region could raise some sticky questions, not least the issue of who would pay. Some of the countries requesting help have minuscule defense budgets—for example, the combined defense spending of the Baltic states of Estonia, Latvia, and Lithuania is barely more than $1 billion. The U.S. already pays 22 percent of NATO's budget, far more than any other nation. Some western European NATO members, such as Spain and Italy, are battling economic crises at home and may not be eager to spend more, says Barry Pavel, a former Pentagon official who now heads the Brent Scowcroft Center on International Security at the Atlantic Council in Washington. "Some nations feel this crisis a lot more directly and deeply than others do," he says.
On the other hand, NATO has a clear duty to defend the territory of its members, says Ian Lesser, senior director for foreign and security policy at the German Marshall Fund in Brussels. Relatively small troop deployments would "send a strong signal [to Russia] and reinforce our allies," and they wouldn't be costly, he says. "During the Cold War there was the notion of tripwires, small numbers of U.S. forces deployed forward, to make clear that we are serious about defending our commitment." As for the risk of provoking further escalation by Russia, Lesser says: "When it comes to defending NATO territory per se, there's a clear red line. The Russians would understand that."
It's not essential to establish permanent NATO bases in the region, the Atlantic Council's Pavel says. "There could be a heel-to-toe, a deployment for three months" by one NATO country, "and then another one comes in, so you have a 365-day-a-year presence, but it's not a base." Some of the newer NATO member countries, however, "do need to up their defense budgets," he says. "They don't need to buy lots of aircraft, but they do need to invest in infrastructure."
William Taylor, a former NATO adviser and U.S. ambassador to Ukraine, says other countries' forces should join U.S. troops now preparing for deployment to eastern Europe. "That's a U.S. bilateral move, and it should be expanded to include NATO forces." Taylor, now vice president at the U.S. Institute of Peace, says NATO should return to the kind of military planning it did ceaselessly during the Cold War. "Every day I was at NATO we were doing serious military planning exercises on how to defend against Soviet aggression in eastern Europe," he says.
Before it's here, it's on the Bloomberg Terminal.
LEARN MORE