Men's Socks Are Having a $2.8 Billion Moment
By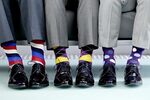 Gentlemen, your ankles must be looking sharp.
U.S. shoppers spent $2.8 billion on men's socks last year, according to new numbers released by NPD Group. That's 14 percent more than they shelled out in 2012 and the biggest increase among all the sartorial segments—more than pants, tops, outerwear, you get the idea.
In all, $2.8 billion breaks out to somewhere around $23 per U.S. dude over the age of 14. Men's apparel sales overall increased 5 percent last year, to $60.8 billion. That means the average guy—including octogenarians and toddlers this time—spent about $382 on clothes last year.
The sock surge, however, is particularly interesting. Socks, like toothpaste or tonic water, have always been basically a commodity. Demand shouldn't change that much from one year to the next.
So the only way to generate more sales dollars—as consumer goods execs know well—is to come out with some new style to justify higher prices or get people to buy more. Or, preferably, both. That strategy is why toothpaste aisles are now stocked with a seemingly endless array of whitening scrubs and why cocktail aficionados now forgo the Schweppes for $16 "small batch" tonic.
Treat your product like a commodity, and people will buy it like a commodity. Treat it as something special, and you may be able to raise prices by multiples. The sock bosses, it seems, are finally taking a cue from Starbucks.
Harry's of London, for example, is selling a $1,500 pair of socks made out of a supremely scant tuft of fur on the New Zealand red deer. Falke also has some four-figure foot sleeves. They are made out of vicuna—a kind of Peruvian llama—and they sell for $1,150 a pair. Barney's, meanwhile, is selling a pair dubbed the Elder Statesman for $350.
Even more pedestrian brands are pushing some spendy socks. J. Crew's "Richard James" cashmere model runs $80, although gentlemen looking to make a more nuanced statement have been opting for the Psycho Bunny ($30). Even the Gap's nattier options now cost $8.
Getting men—or their girlfriends or wives—to spend more on socks is only one part of the equation. Companies also have to get them to buy more of them. The best way to do that is to get them to wear noticeable socks. A guy may be able to pull off lime-green socks with a grey suit, but he certainly won't try it more than once a week. He needs more pairs in the rotation.
Loud socks have been a thing for a few years now, and the trend doesn't seem to be fading. As recently as February, the tastemakers at GQ were crowing about so-called statement socks: "[T]hey represent a level of personal care and sartorial interest that deserves nothing but respect."
Motley socks seem to have made strides among men who, while not schlubs, may not be on fashion's cutting edge. Adoption by the well-dressed mainstream would explain the big bump in sock spending last year, and if anything, the volume is still rising. (See: Dwayne Wade's new summer sock line.)
Still, the market is not without some friction. Bare ankles are having a moment, too.
Before it's here, it's on the Bloomberg Terminal.
LEARN MORE