How Ford Helped Mark Fields Win
by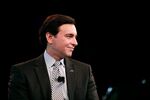 In some respects, the new chief executive officers of Ford and General Motors have followed strikingly similar life scripts. Like GM's Mary Barra, incoming Ford chief Mark Fields is an auto industry veteran and company insider. Both leaders were born in 1961 and hold MBA degrees from top-tier business schools (Barra from Stanford; Fields from Harvard). They were raised in modest, middle-class families and had a slew of visible successes prior to being named CEO.
So why does Fields seem to have the wind at his back, while Barra's tenure was troubled from the start? One reason, of course, is GM's massive recall: 7 million and counting, with the latest being 50,000 Cadillac SUVs to fix a computer glitch. Even so, Fields has three other advantages, in part owing to a management culture at Ford that runs circles around GM's.
The corporate ladder: At 38, Fields was put in charge of running Mazda Motor after heading Ford's Argentina operations. He moved up the ranks, becoming head of the North and South America businesses, among other key positions. That's meant dealing with budgets, strategy, customers, dealers, and all other aspects of an operation. He's been tested as a CEO in a number of challenging situations.
The boss: Outgoing Ford CEO Alan Mulally is a student of management and widely hailed as one of the best CEOs of his generation—so much so that he was viewed as a top contender to lead Microsoft. He came to Ford in 2006 determined to change the culture and with a fundamental respect for the brand. More important, he focused on nurturing people and building a strong team. His exit is a surprise, too, but only because it will occur a few months earlier than planned. Fields, the designated successor, is clearly ready to step into the top job.
Company culture: This may sound squishy, but it's not. One of the first things Mulally did at Ford was to work with executive coach Marshall Goldsmith to help revamp how things were done at the top. Mulally changed the focus and format of executive meetings while also encouraging people to share bad news. "It's a very clear and transferrable process," says Goldsmith. "Mark doesn't have to reinvent it." Indeed, Fields has been running the meetings for some time—another plus for a seamless transitions, given that CEOs often have a hard time letting go.
Before it's here, it's on the Bloomberg Terminal.
LEARN MORE