Even Power Players Aren't Prepared for a White-Tie Met Gala
by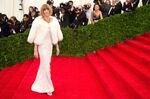 Anna Wintour's order that all men attending the Met Ball wear "evening dress and decorations" has New York's party set talking—and fretting.
With the May 5 fundraiser for the Metropolitan Museum of Art's Costume Institute approaching, guests at galas this week revealed they don't even own—or certainly don't regularly wear—the required apparel: a black tailcoat, a waistcoat, a wing-collared shirt and white bow tie.
When Edgar Bronfman Jr., an impeccable dresser who attends some of the city's most glamorous occasions, tells you that he hasn't worn his white tie since his wedding 20 years ago—then you know there's a problem.
One hedge-fund wife even said her husband refuses to attend black-tie galas. Those that do agree to wear black-tie often fudge it, as when a former derivatives trader did up his shirt with mismatched cufflinks instead of studs. He wasn't met with approbation, though; the improvised garb proved an ice-breaker all evening.
Sylvester Miniter, of Durham Capital Corp., wears a tuxedo quite often as he attends benefits with his wife, Gillian Miniter. He'll attend the Met Gala in rented tails, he said.

"The last time I rented an outfit was at Landon for prom. It was $40 when I rented in high school, and $199 today," Miniter explained. "So there's definitely inflation."
His source was Jack Silver in the theater district—his first phone call.
"I got the whole thing, like 'Downton Abbey.' I'm going to look like Carson," he said.
"No, his Lordship," corrected his wife.
Like a good Lord or butler, Miniter respects protocol.
"To me, a dress code for a party you've got to respect, and I don't want to cross Anna Wintour," he said. Plus, he really liked the look. "If I feel comfortable, I'm going to buy one. Because I think it's nicer, it goes longer down the back, it's more formal and there's so many times you wear regular tuxedos, it's like nothing. This feels special. I think it's the original idea of tuxedos."
So will other men break the code on Monday? Author Jill Kargman, known for wearing everything from Chanel to Goth getups, thought not.
"I think they are all going to obey," said Kargman, who won't be in attendance, but who often makes fun of the groupthink mentality she finds in her Upper East Side environs (soon to be the subject of a new show on Bravo based on her life, called Odd Mom Out.)
For his part, Harry Kargman, Jill's husband, is taking baby steps toward "evening dress." The mobile advertising executive bought a white jacket after being invited to two weddings requesting the attire.

"I bought a Thom Browne Black Fleece white jacket. I got it on sale, because I don't know how many people buy white jackets. It's a fantastic acquisition. It gives me an aspiration to stay my same shape and body weight. Not that I think about that stuff, but as you get into your 40s and 50s, I think men thicken."
Before it's here, it's on the Bloomberg Terminal.
LEARN MORE