Dartmouth College Dean Charlotte Johnson Leaves for Scripps
John Lauerman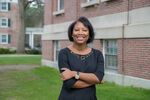 Dartmouth College's Charlotte Johnson, dean of the college, is leaving to become a vice president at Scripps College in Claremont, California.
Johnson, 51, who came to Dartmouth in 2011 from Colgate University, will leave at the end of the academic year, Hanover, New Hampshire-based Dartmouth said today in a statement.
Dartmouth has been embroiled in controversy in the past year, from an Education Department investigation into its response to sexual harassment on campus, to students occupying President Philip Hanlon's office for two days to protest what they called an unwelcome atmosphere for minorities. Hanlon, who took office in June, called for a halt in "extreme behavior" by students in an April 16 speech.
"Charlotte has worked tirelessly to support and strengthen the community life of the college," Hanlon said in a separate statement to the Dartmouth community. "She was never afraid to take on the challenges of combating high-risk behavior, and her efforts have been effective in moving us forward."
Dartmouth has been battling high-risk drinking and sexual misconduct on campus. In collaboration with a consultant, the school has started a program, called the Dartmouth Bystander Initiative, intended to educate students about how they can intervene in situations where other students may be in danger of being sexually assaulted.
Johnson Initiatives
Education and prevention programs started under Johnson's leadership contributed to a three-year decline in emergency cases related to high blood-alcohol levels on campus, according to the school's statement.
Undergraduate applications dropped 14 percent at Dartmouth this year, and last month a women's rights advocacy group, called UltraViolet, began running Internet ads asserting that the school has a "rape problem." The group has since broadened the ad series to target other colleges, including Harvard University.
Dartmouth is one of 55 colleges across the U.S. that are under investigation for violations of Title IX, the law that bars gender discrimination in education, and requires universities to prevent and respond to sexual assaults. The 245-year-old school a member of the Ivy League, a group of eight elite colleges in the northeastern U.S.
Before it's here, it's on the Bloomberg Terminal.
LEARN MORE