Carney Protege at Fidelity Sees 12% Loonie Slide: Canada Credit
Greg Quinn and Cecile Gutscher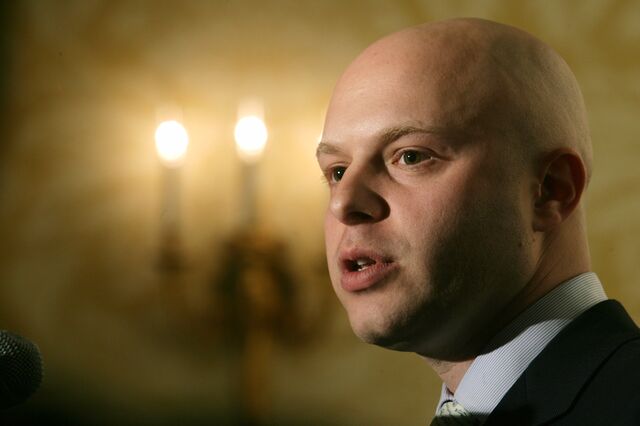 Fidelity Investments' David Wolf says the Canadian currency needs to depreciate more than 12 percent to make the economy competitive again and is betting that his former colleagues at the Bank of Canada agree.
The former adviser to Mark Carney who became co-manager of five Fidelity funds in March, including the Canadian asset allocation fund, said the Canadian central bank may engineer a weaker dollar by lowering rates if it doesn't happen by itself. Fidelity has moved a quarter of assets in the allocation fund abroad, just below the internal threshold of 30 percent, to benefit from a tumble in the currency that will devalue it to 80 cents per U.S. dollar, Wolf said.
"Not only does the currency need to get undervalued, it needs to stay there for an extended period of time," Wolf said in an interview at Bloomberg's Toronto office April 29. At Fidelity, Wolf decides how to allocate C$25.8 billion ($23.5 billion) of funds with co-manager Geoff Stein. "It wouldn't surprise me at all if five years from now we have a Canadian dollar that is below 80 cents U.S., and it may not take five years to happen."
Wolf, 38, left the Bank of Canada in July after Stephen Poloz took over from Carney as governor. His outlook contrasts with forecasts for a rate increase and a currency no weaker than C$1.14 next year according to the average of analysts' forecasts compiled by Bloomberg. While Wolf said his "base case" is for no rate change in the next 18 months, he sees wiggle room in the central bank's stated neutral stance.
Lower Longer
"If there is a move in interest rates over the next 18 months in Canada, in my mind it's far more likely to be down than up," he said. "If the Canadian dollar doesn't do it on its own, the bank will have to act to make it go down. That may be through lower interest rates."
The prospect of slow economic growth and a possible rate cut instead of an increase means bonds may gain more than most investors expect, Wolf said. Fidelity's holdings along this theme have included investment-grade and high-yield bonds in Canada and the U.S.
"Rates are likely to remain lower for longer and in that kind of world given the steepness of the yield curve you are actually paying a whole lot away to take the defensiveness of cash versus being in the bond market," Wolf said. "It's a better environment for bonds than people realize."
More Insight
The C$8.18 billion Fidelity Canadian Asset Allocation Fund co-managed by Wolf has tilted toward non-Canadian assets to take advantage of any currency weakness. All of the fund's 7.5 percent in foreign bonds and 16 percent in overseas stocks -- mostly U.S. equities -- are unhedged, meaning the exposure remains in the foreign currency. The fund was below benchmark targets on Canadian bonds and stocks at 22 percent and 50 percent, respectively.
Former colleague John Johnston, chief strategist at Toronto-based investment firm Davis Rea Ltd., said Wolf's background gives him more insight into the Bank of Canada's next move although his insider's knowledge will fade over time.
"His was an opinion worth listening to before he went to the BoC," Johnston said by phone April 30. The two men worked together when Johnston was chief economist at RBC Capital Markets from 1997 to 2004. "He has an advantage over many of us looking at it from the outside, but the problem is that the whole cast of characters has changed. Over time, he'll be one of us rather than one of them."
Exports Harmed
Davis Rea started shifting two-thirds of its equity allocation to the U.S. in February 2013, the same month Johnston warned that Canadian stocks and bonds are headed for a prolonged bear market. Johnston, 56, predicted the loonie may tumble more than 30 percent to as low as 70 U.S. cents over the next decade amid a slump in commodities exports, a forecast he now says may not have been bearish enough.
"The Canadian dollar is overvalued which has really harmed the export sector of the economy," Johnston said. "We believe the period of Canadian outperformance is past."
The currency was 0.1 percent lower at 91.21 U.S. cents as of 10:31 a.m. in Toronto. The loonie has weakened 3.1 percent versus the greenback this year.
The Standard & Poor's/TSX Composite Index, Canada's benchmark equity gauge has gained 8.7 percent this year, the best performance among the world's 10 stock largest markets, driven by rising energy prices.
Canada's economy is "unbalanced" after years of housing gains and consumer spending and a weaker currency is "the most efficient and effective way" to boost exports and business investment, Wolf said.
Moving Back
"Verbal intervention, which is talking down, talking up, what have you on currency markets, doesn't tend to be effective in the longer term unless it's matched by changes in fundamentals, changes in policy," Wolf said.
Canada's slower domestic economy will make it difficult for the country's banking stocks to make significant new gains, he said. Wolf declined to comment on specific holdings, saying that job is left to other managers outside the global asset allocation group he works with.
Wolf is moving back to Toronto, where he said the housing market is overvalued, to be closer to Canadian clients and family. Before leaving Canada's central bank, he worked in Toronto as head of Canadian economics and chief strategist at Bank of America Securities-Merrill Lynch Canada from 2005 to 2009. Previously he was senior economist at RBC from 1997 to 2005.
Before it's here, it's on the Bloomberg Terminal.
LEARN MORE