Why Patton Boggs Has Come to Regret Picking a Fight With Chevron
Paul M. Barrett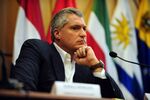 For Patton Boggs, things have gone from bad to worse. The legendary Washington law and lobbying firm compounded its economic troubles by getting entangled in litigation against the sort of company it normally represents. And now that litigation has taken a turn for the ominous where Patton Boggs is concerned.
A federal judge in New York has dismissed a suit Patton Boggs filed against Chevron, which accused the oil giant of bad faith in response to the law firm's attempt to enforce a multibillion-dollar pollution judgment in Ecuador. While the fizzling of the Patton Boggs case by itself might not seem significant, the dismissal leaves behind Chevron's counter claims against the law firm, in which the oil company accuses the Washington partnership of participating in a massive fraud and coverup related to that same Ecuadorian judgment.
All of this comes at a time when Patton Boggs is struggling economically, losing key partners to defection, and considering a merger with a larger firm: not a good combination.
The hostilities between Patton Boggs and Chevron—which in some ways ought to be seen as hostilities with the oil company's main outside firm, Gibson, Dunn & Crutcher—stem from a February 2011 judgment by a provincial trial court in Ecuador. The court held the American company liable for long-standing contamination in the Amazonian rain forest. Patton Boggs took on the uncharacteristic mission of assisting the victorious New York-based plaintiffs' attorney, Steven Donziger, in his attempts to enforce the Ecuadorian judgment, which was at one time valued at more than $19 billion.
Arguing that it isn't responsible for the pollution on the ground in Ecuador, Chevron accused Donziger—and his ally Patton Boggs—of trying to extract billions of dollars in a case tainted by extortion and bribery in Ecuador. Patton Boggs, in turn, filed a series of suits against Chevron, all of which have now been dismissed.
What's left after this exchange of legal salvos is this: In March, U.S. District Judge Lewis Kaplan in New York ruled that Donziger did indeed procure the pollution verdict by means of fraud and coercion. Kaplan barred Donziger and his clients from profiting from that verdict. (Donziger denied wrongdoing and has appealed.)
Kaplan has also dismissed all of Patton Boggs's claims against Chevron and cleared the way for the oil company to move ahead with a trial against Patton Boggs—essentially a follow-up case to the one in which Donziger was found to be corrupt. Kaplan will preside over the case against Patton Boggs, not a promising scenario for the Washington firm.
"Chevron now looks forward to proving its claims against Patton Boggs and to holding it accountable for its role in perpetrating this scheme," company spokesman Morgan Crinklaw said via e-mail. A Patton Boggs spokesman said in a statement on Tuesday: "We disagree with the court's ruling" dismissing the firm's suit against Chevron, but noted that "the decision was expected and does not materially impact the posture of the case." That last bit seems a tad blasé given all the circumstances.
Before it's here, it's on the Bloomberg Terminal.
LEARN MORE