Warner Bros. Plans to Go Loco With Lego
by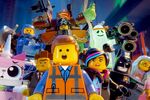 Get ready for a lot more multicolored bricks at the multiplex.
On Wednesday, during a conference call announcing Time Warner's first-quarter earnings, Chief Executive Officer Jeffrey Bewkes singled out The Lego Movie for praise, and suggested there will be lots more Lego-inspired entertainment in the company's future.
"Warner Bros.' performance at the box office in the first quarter was a result of its continued development of franchise films with global appeal, including The Lego Movie, which was the quarter's No. 1 release at the domestic box office," Bewkes said.
To date, The Lego Movie has rung up $452 million at the box office worldwide, according to Box Office Mojo. Thanks to the movie's strong performance, operating income at the Warner Bros. studio jumped 40 percent to $369 million in the first quarter. Time Warner's overall first-quarter earnings rose to 97 cents a share.
Back in February, in an interview on the eve of the movie's première, producer Dan Lin said that he envisioned the feature film spawning not just a long-running movie franchise but also an entirely new genre of entertainment. "What I've told Warner Bros.," said Lin, "is that if this movie works, in the future you'll have live-action movies, you'll have animated movies, and you'll have Lego movies. It will be a new class of films that look photo real, that are very funny, and have a very specific tone. It's a look you've never seen before."
On Wednesday, Bewkes didn't get quite that carried away. But he came close. "Warner Bros. is already working on another Lego movie for release in 2017," he said. "We think that Lego has the ability to be an evergreen franchise that, along with DC Comics and with J.K. Rowling's new series of films, will underpin the economics of our film business for many, many years."
The coming Lego salvo, Bewkes assured analysts, won't be limited to Time Warner's film studio. "As you may know, our relationship with Lego also includes important video game and television properties," he said, "underscoring our ability to monetize the high-quality intellectual property across the company."
Translation: Bewkes is well on his way to becoming the ultimate Lego master builder.
Before it's here, it's on the Bloomberg Terminal.
LEARN MORE