Venezuelans Find Jobs and a Home in Panama
The country offers a robust economy and close cultural ties
By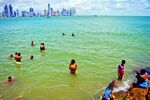 Leonardo Zambranok left Venezuela in 2011 to take a marketing job with Procter & Gamble in Panama. Watching the latest wave of violent protests back home, Zambranok thinks he made the right choice. "Everyone said I was making a big mistake," says Zambranok, 27. "Now it's more insecure than ever, and you're starting to see young people want to move away like crazy."
An exodus that began under Venezuela's late President Hugo Chávez has continued under President Nicolás Maduro, who vowed to extend his predecessor's socialist policies after winning election a year ago. Panama has emerged as a primary destination: Last year, 233,921 Venezuelans entered the country, up from about 147,000 in 2010. They're mostly young, middle-class job seekers driven by their country's shortage of basic goods, quickening inflation, and antigovernment demonstrations that have claimed at least 41 lives since February.
With close cultural ties, more open immigration laws, and plentiful jobs, Panama City, the capital, has dozens of Venezuelan-run restaurants, yoga studios, and bakeries. Cable TV packages include Globovisión, historically an antigovernment Venezuelan channel.
At pickup soccer games in the capital, Zambranok says the talk is about hardships at home and opportunities in Panama. "Our culture is about relationships, where you know a guy who knows a guy who can help you," Zambranok says. He shows a photo of a friend, taken amid recent food shortages, standing in front of mayonnaise jars at a Caracas supermarket. "This is big news when you can get mayonnaise. It's absurd."
Under Maduro, Venezuelan inflation has soared to 59 percent, the highest in the world. According to a Venezuelan central bank scarcity index—a measure of goods that are out of stock on the market—one in four basic products could not be found on store shelves in Caracas in January. In March, the government let the bolivar weaken 88 percent in a new currency market, the Sicad II, where companies and individuals can buy and sell dollars. The market is part of a move to increase imports to Venezuela, which is South America's biggest oil exporter.
Wedged between Colombia and Costa Rica, Panama has lured workers with economic growth that has averaged about 9 percent per year since 2008. Unemployment is 4.1 percent, a record low. A $5.25 billion expansion of the Panama Canal, scheduled for completion in late 2015, will create more jobs and has prompted investments in banks, mining, and real estate, including a new Hard Rock hotel. "We've had to open up our immigration policy to attract more skilled labor," says Panama Finance Minister Frank De Lima.
Panama's immigration agency recently announced it had legalized about 50,000 foreign workers since 2010 in a series of open registrations. Of the 5,072 foreign workers approved in April, 603 were Venezuelan, the fourth-highest after immigrants from Colombia, the Dominican Republic, and Nicaragua.
The government has eased residency requirements for immigrants from more than 40 nations deemed friendly to Panama, including the U.S. Those citizens can work there or start a business by opening a $5,000 local bank account. Venezuela is not on that list. Still, De Lima says, Panama has "seen an increase of Venezuelan investment, companies, and entrepreneurs in the last couple of years."
While Zambranok's employer sponsored his visa, other Venezuelans initially find jobs while under a six-month tourist status. They then apply to stay on permanently. Fueled by the 100-year-old canal's expansion, Panama may lead Latin America in economic growth, expanding 7 percent, compared with a 1 percent contraction in Venezuela, the World Bank forecast in an April 9 report.
The country of 3.6 million people has one of the highest job turnover rates in the region, and companies are willing to bend the rules to retain foreign workers, says Alberto Alesi, the Panama director for staffing company ManpowerGroup.
"You can't hire a civil engineer from Venezuela because it's a protected job for Panamanians," Alesi says. "So some firms hire an engineer from Venezuela, but as a technician. It's the same job, just less pay."
The migration comes amid heightening tensions with Venezuela. In March, Maduro severed diplomatic and commercial relations with Panama, accusing President Ricardo Martinelli of stoking foreign intervention that Maduro claimed was behind this year's protests. "We want Venezuela to respect human rights," Martinelli says. "It's very sad to see all the violence, the people being killed."