San Francisco Sure Does Order a Lot of Cat Food
The Bay Area's online shoppers also show a rabid desire for toilet paper, protein powder, and (uhm) mayonnaise.
By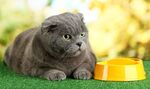 When it comes to getting something right away, many people turn to same-day online shopping. And in San Francisco, that translates into scads of expedited orders for Sriracha hot sauce, toilet paper, and tons upon tons of cat food.
That's according to Google, at least, which today pulled the veil off the Bay Area's hidden consumer desires with the snazzy infographics below. The online giant took data from Google Shopping Express and used it to map out the unique purchasing tastes of San Francisco's neighborhoods. The downtown Financial District demands lightning-quick deliveries of energy drinks, for instance, while Cole Valley is more chillaxed with many orders for yoga supplies. It's always breakfast time in Potrero Hill, which buys the most cereal in the city via Google, and the arguably douche-dotted Marina District has a big craving for protein powder.
Google says the most popular products citywide tend to be essential home items like toothpaste and bathroom tissue or large, bulky things like potting soil and boxes of canned soup. Also popular are Sriracha and tennis balls. Then there's the thing with cat food. The data show that citizens of the Bay Area use the service to accumulate chow for as many as 1,500 felines every day. Either that, or some smart and very overweight cat has learned that if it whacks the keyboard enough times when the browser's on Google, hours later a strange person arrives at the door with food.
Deeper into Silicon Valley the predilections get a bit more esoteric. Google's hometown of Mountain View purchases the most equipment for rock climbing. In Palo Alto, consumers want Nutella above all else, and San Jose is king of the land when it comes to orders for (yum!) mayonnaise. Have a look:

Graphics courtesy of Google Shopping Express; Top image: Africa Studio /Shutterstock