Protecting Teens From the Allure of E-Cigs
Time to end candy-flavored nicotine and manipulative ads aimed at kids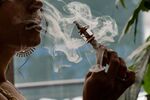 Nearly five years after gaining the authority to regulate electronic cigarettes, the U.S. Food and Drug Administration has finally exercised it. It should ignore the vape screen of objections from the fast-growing $3 billion industry and proceed as quickly as possible with its plan to outlaw sales to those under 18 and require manufacturers to say exactly what's in the things and how they work.
Putting the rules into effect is expected to take at least a year, and even then certain safeguards that are crucial to preventing e-cigarette use by children will need to be written. These include bans on candy flavorings in the nicotine concoctions that e-cigs vaporize and prohibitions against television advertising and sponsorship of music festivals and other events that kids are likely to attend.
Most immediately, the FDA needs to stand firm against e-cigarette makers' continuing efforts to delay the proposed rules. The companies argue that too much regulation too soon will "stifle innovation." What exactly "innovation" means in the context of e-cigarettes is unclear, though it's likely to involve new and more efficient ways to deliver nicotine. The theory is that this could make e-cigarettes work better as smoking cessation tools, but this theory isn't proven.
Even if it were, there's no need for unfettered advertising and bubble-gum flavors. In 2012, 10 percent of U.S. high school students tried e-cigarettes, says the Centers for Disease Control and Prevention, double the number from the previous year. And surveys suggest vaping leads to regular smoking among teens.
The e-cigarette ads that have been created so far look familiar to anyone who remembers ads for regular cigarettes, which have been banned from TV and radio for 45 years. They use images that blatantly appeal to teenagers. Instead of discouraging tobacco use, they present e-cigarettes as a kind of gateway vice, safer than cigarettes but just as subversive. In doing so, they undermine the progress that has been made in stigmatizing cigarettes for children and adults alike.
Before it's here, it's on the Bloomberg Terminal.
LEARN MORE