Pfizer-AstraZeneca Deal Threatens Spending on New Drugs
Shannon Pettypiece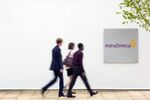 Pfizer Inc.'s plan to buy AstraZeneca Plc probably will lead to billions of dollars in research cuts, the closure of laboratories and thousands of scientists being fired if history repeats itself.
While drugmakers routinely refer to "synergies" in proposing large takeovers, the bottom line for patients is often fewer new medicines being pursued, according to a review of past large acquisitions by Pfizer.
Since buying Wyeth in 2009, New York-based Pfizer has shed $4.6 billion in research spending, announced plans to close at least seven labs and narrowed its scientific focus to six areas of medicine, ending work in diseases such as asthma and allergies. Pfizer says the changes help make its search for drugs more focused and consumer savvy. Critics contest that the cuts have limited creative, early-stage research and slowed the process of bringing new drugs to market.
"The fewer number of companies that exist, the worse it is for patients because you have fewer people out there discovering things," said John LaMattina, who was Pfizer's chief scientist during two large mergers before leaving the company in 2007.
After spending $244 billion on acquisitions since 2000, Pfizer formally announced its interest in acquiring AstraZeneca on April 28. The company sweetened its bid today to about 63.1 billion pounds ($106.5 billion). AstraZeneca rejected the offer, saying it doesn't recognize the value of the company's pipeline of experimental drugs.
Pfizer's Record
Since 2000, Pfizer has brought just three drugs to market that generate more than $1 billion in annual sales, according to data compiled by Bloomberg. During the same period, Bristol-Myers Squibb Co., which spent just $21 billion on deals, has produced the same number of billion-dollar products.
The effects of a mega-merger on drug development can be "devastating," said Bernard Munos, a former Eli Lilly & Co. executive who founded InnoThink Center for Research in Biomedical Innovation, an Indianapolis consulting company.
"When it comes to pipeline consolidation, 1+1=1," Munos wrote in an e-mailed response to questions. "Pfizer's three mega-mergers cut the industry's capacity to produce new drugs by about 2 to 3 new medical entities per year."
LaMattina knows first hand what can happen when Pfizer makes a large acquisition. He worked at the company during two of them. In 2000, Pfizer paid $116 billion for Warner-Lambert Co., and in 2003 it bought Pharmacia Corp. for $60 billion.
Research Productivity
Research productivity in some cases slowed to a stop awaiting decisions on whether the new company wanted to move forward on testing certain drugs. Months passed when no new research programs were started and hiring was frozen, according to LaMattina. Meanwhile, scientists were consumed with anxiety about whether they would be fired or asked to relocate, he said.
"You have lots of turmoil," he said in a telephone interview. "It is very disruptive to an organization."
The proposed Pfizer-AstraZeneca deal is among a wave of consolidation efforts that have been transforming the face of the pharmaceutical industry. Last month alone, about $118 billion in health-care deals were announced or proposed, almost reaching the $174 billion spent on deals all of last year, according to data compiled by Bloomberg.
Those deals come after decades of consolidation. Of the 42 companies that were members of the Pharmaceutical Research and Manufacturers of America, the industry's lobbying group, in 1988, just 11 remain, LaMattina said. While many smaller drugmakers have started up over that time, they don't have the same resources, limiting their output and the number of diseases they can target, he said.
Initial Investigation
While analysts say the consolidation is good for profits and investors, some within the industry argue its been bad for drug research and development, and for patients.
"In the long term, mega-mergers haven't been productive for R&D," said Jeremy Levin, the former chief executive officer of Teva Pharmaceutical Industries Ltd. who previously oversaw Bristol-Myers Squibb Co.'s acquisition strategy. "With very few exceptions, the early stage research is often cut very rapidly in order to satisfy the business needs or synergies."
Pfizer's head of research and development, Mikael Dolsten, said the decision to exit some research areas has been driven by what the company feels it can do with the science, what diseases patients and payers are willing to pay for and Pfizer's competition.
Science-Business Dynamic
That means less science for science's sake, and a closer aligning of the business side with the R&D operations, he said.
"We are very excited and proud of that transformation that we've gone through to build up an integrated science and business strategy," Dolsten said in a telephone interview.
While the drugmaker has closed some large research complexes, it has opened smaller hubs in Boston, San Diego, San Francisco and New York. The idea, company officials have said, is to offer academic researchers and scientists at small biotechnology companies support for their work, limiting the number of researchers Pfizer needs to employ.
Pfizer hasn't detailed what it would do with AstraZeneca's 9,000 research employees and $4.8 billion research budget. Pfizer has already cut 2,000 jobs in the U.K. by closing its lab in Sandwich, England. The lab was where the erectile dysfunction pill Viagra was discovered.
"There is an issue about big life-science companies and the level of innovation has actually dropped in comparison to their size," said Ann McKechin, a lawmaker from the opposition Labour Party, who is a member of Parliament's cross-party business committee. "Are we seeing a real change within the life sciences-pharmaceutical industry as a whole globally and how does the U.K. react to that?"
Sharper Focus
Over the last few years, Pfizer repeatedly has cited a need to get more focused with its research, shunning the idea that more spending is better.
Judson Clark, an industry analyst with Edward Jones & Co. in Des Peres, Missouri, said he's not worried about R&D cuts hurting long-term research productivity.
"There's a level that would have me concerned, but I don't think we're there," he said in a telephone interview. "Part of it is that late-stage trials are so expensive that as we started getting readouts, expenses naturally come down."
In addition to budget cuts and lab closures, mega-mergers tend to greatly delay research that's in progress, said Kenneth Kaitin, director of the Tufts Center for the Study of Drug Development. Such acquisitions slow a drug's path to market by an average of nine months as plans go on hold and decisions deferred until the deal is finalized and the consolidation effort begins to take hold.
Process 'Slows'
"Products currently in development at AstraZeneca can expect a delay or slowing down in clinical development time as a result of this merger," Kaitin said in a telephone interview. "If there is something going through development that shows promise, evidence suggests this slows the process."
Dolsten said the company has learned to deal with the disruption of larger mergers -- he's been through five.
"We have a structure and culture that can manage a very dynamic environment, which is important whether you grow organically, or from time to time do business development or acquisitions," he said.
AstraZeneca, based in London, has a promising research and development roster that includes a new generation of cancer therapies that work by beefing up the body's immune system. Included in this work is a drug that Pfizer abandoned, selling the rights to AstraZeneca when it decided the research direction wasn't sustainable.
Scientist Shake-Up
Following Pfizer's acquisitions, thousands of scientists were fired or told they would have to relocate to keep their jobs, he said. While some were later employed by other drugmakers or started their own companies, many got out of drug discovery entirely, LaMattina said.
In some cases, talented scientists moved to classroom teaching to make a living, he said. One researcher he knows started a furniture-making business, said LaMattina, while another became a logger.
That track record has U.K. lawmakers worried.
"I have a number of concerns about the impact on employees directly in this country but also about U.K. wider interests, the research base and the capacity of our pharmaceutical and life science industries," said Parliament member McKechin.
Before it's here, it's on the Bloomberg Terminal.
LEARN MORE