Nascar Needs a Ratings Savior. It Might Just Be Carl Edwards
By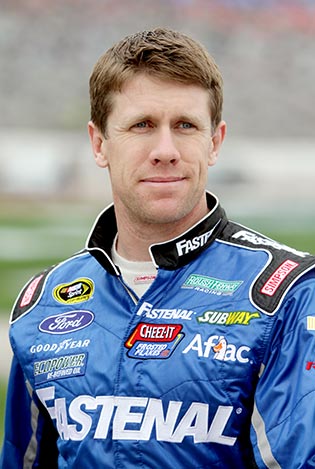 On May 4, stock car fans will be tuning in to watch the race at Talladega Superspeedway, Nascar's biggest and fastest track. Too bad there probably won't be enough of them. It's no secret that Nascar racing has had plenty of trouble recently holding on to its audience on a weekly basis. The series suffers from both an aging fan base and the lasting effects of a deep economic recession.
Television ratings are unequivocally down in the last decade—not surprisingly, major media partners including ESPN and TNT won't be airing races next year. Stadium operators have even come to the realization that fans aren't coming back, spending hundreds of millions of dollars to reduce seating capacity at the tracks.
You'd think the success of a popular racer like Dale Earnhardt Jr. would correlate with the success of the sport. Not so. Yes, he's a star with a loyal following, but Nascar needs to widen its audience. Earnhardt's triumph at this year's Daytona 500 hasn't engaged the casual fan—TV ratings are down to levels not seen since 1997.
Despite fluctuations in the size of the household TV audience, a set of faithful fans will continue to watch. Such fans form the "minimum" audience number, those who watch no matter what. If anything, Earnhardt represents this group, the ones who love Nascar and aren't going away.
To increase revenue and ratings, the sport needs to interest the "marginal" fans—viewers who might be interested in watching races but sometimes choose not to. They're the ones who watched a few years ago but don't anymore, and they aren't necessarily Earnhardt fans. So is there a specific driver who might move the needle in terms of luring marginal fans?
Andrew Maness, an economist who maintains the website Racingnomics, researched this question in an exclusive analysis for Bloomberg Businessweek. Maness tracked a series of performance variables across all the top active drivers going back to 1995. After accounting for other factors that might influence television ratings (a race's start time, TV competition on race day), he correlated the success of individual drivers to audience size to determine which drivers have had an impact on bringing in the marginal fans. One driver clearly emerges from the data: Carl Edwards.
 
Edwards is the only driver in the study who improved audience size in a significant manner. His week-to-week success increases television ratings by 3.6 percent. No other driver's success carries a positive relationship across all five models (measuring different components around winning races, leading many laps, overall points standings, etc.). Notice in the graph below, Edwards is the only driver with a statistical confidence interval above zero.

It's not surprising to see Edwards on this list, given his crossover appeal. He's the one driver featured in multiple Subway commercials, often with NFL personalities, Olympic athletes, and even sportswriter Jay Glazer. These spots are usually aired outside race broadcasts, during mass-audience events such as football games. Edwards is well known for his athletic abilities, including his trademark back-flip after winning a race. Perhaps he also appeals to a broader demographic because he comes from the Midwest rather than the South, and he brings a sensibility about Nascar that's a lot less Ricky Bobby and a lot more universal, charming, and polished.
Even an anecdotal reflection of Edwards's success over the his decade-long career shows a close correlation to TV ratings performance: The three strongest years for recent ratings growth were 2005, 2008, and 2011—matching exactly with Edwards's three best seasons, when he competed for the championship through the final race each time.
Of course, there are other factors that drive ratings, but this annual reflection verifies the rigorous models from above. The 2011 racing season saw a ratings spike, which featured Edwards battling Tony Stewart all fall for the title (losing by the narrowest of margins in a tiebreaker).
Edwards is now in a contract year. He'll be a free agent when the season is over and will have the option to go to any team he chooses. Nascar should want him to get into the fastest car possible. Next year's ratings already face a challenge as race broadcasts shift to networks with smaller audiences. All else being equal, the numbers suggest Edwards is the single most important driver in keeping Nascar's ratings afloat.
Before it's here, it's on the Bloomberg Terminal.
LEARN MORE