pursuits
My Old Kentucky Jumbotron: The Derby Gets a Very Big Screen
By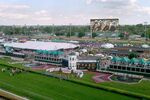 Kentucky horse racing is taking a cue from Texas football. Just in time for the Derby this weekend, Churchill Downs is unveiling a massive trackside jumbotron that will make the ponies appear 70 feet tall.
The Panasonic video screen costs $12 million and stretches 170 feet wide and 90 feet tall. That's a tad bigger (PDF) than the massive new panels in the home of the Dallas Cowboys, although the football stadium has four of the big screens.
The company behind the Kentucky Derby—yes, Churchill Downs is a company—certainly didn't need a massive screen. The horse race is one of a few that still draws interest beyond hard-core handicappers. The crowds are going to come and buy $1,000 mint juleps whether they can actually see the race or not, and those who gamble heavily on the juleps certainly won't. Maybe adding a very big screen to the pageantry is just a savvy diversification strategy.
Betting income is increasingly, well, a gamble for businesses that depend on it. Between 2007 and 2011, the amount wagered on horse races in the U.S. slid 27 percent, although it ticked up ever so slightly in each of the last two years.
 
Churchill Downs hosts almost one in 10 U.S. horse races at its handful of tracks, and the company has held its own thanks to its marquee venue. The gambling take at secondary tracks such as Arlington in Illinois and Calder Race Course in Florida has waned. Here's a look at how much of Churchill Downs's race-track revenue comes from its namesake facility:

Typically, the company collects a commission of about 9 percent on all bets. But over the past decade, Churchill Downs has been making more money from selling tickets, cocktails, and souvenirs. Here's a look at how much of the revenue at its marquee facility came from wagers:

Along with the big screen, Churchill Downs just added 750 powerful speakers and seating for another 2,400 casual horse fans, who are sure to drink quite a few expensive cocktails. And the facility can do a much more effective job of blasting the assemblage with ads, if executives ever go looking for more revenue.
Once the Derby passes, the jumbo flat screen may come in handy for showing movies, sporting events, concerts, and, no doubt, other big horse races. More than $27 million will be spent this year to make Churchill Downs "one of the premier sports and entertainment venues anywhere in the world," as President Kevin Flanery said in a statement.
Churchill Downs has already picked out a preferred nickname for the new screen: the Big Board. It sure seems like a good fit. That's what people call the New York Stock Exchange, another venue for gambling that is struggling to stay relevant.
Before it's here, it's on the Bloomberg Terminal.
LEARN MORE