Michael Kors Wins Over Europe's Fashionistas
Customers like the classic American looks and lower prices
By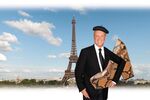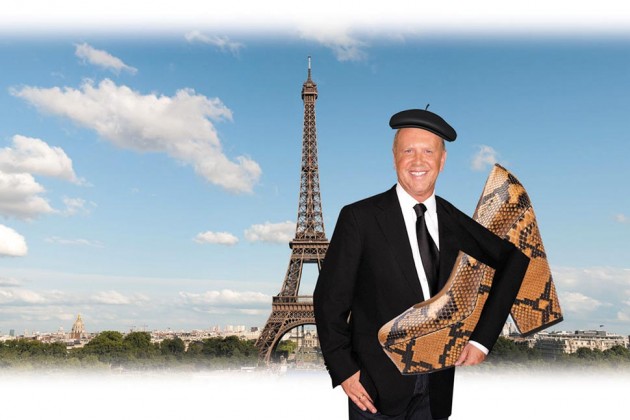 Sophie Fiszman, a finance executive in Paris, used to buy only European fashion brands such as Louis Vuitton and Gucci. Now she shops at the Michael Kors store on Paris's posh Rue Saint-Honoré. She recently bought a blue python-print bag at the store and was pleased that she'd found a purse she liked for less than €300 ($412). "The price is very good for what you get," says Fiszman, deputy chief executive officer of OFI Asset Management. "I like the new style they have."
New York-based Michael Kors has found a niche as an accessible—in other words, less expensive—luxury brand with the look and feel of a higher-end label. By producing goods at lower prices and adding a dash of American novelty, the label appeals to cost-conscious European consumers who still want high style, says Allegra Perry, an analyst with Cantor Fitzgerald in London.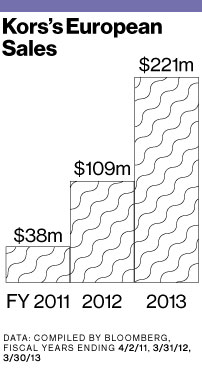 In the wake of the 2008 financial crisis, European brands have been promoting their exclusivity by opening fewer stores and pushing up prices. That's created an opportunity for Kors to step in with more affordable merchandise, says Robert Burke, founder of a luxury consulting firm based in New York. Most Kors bags cost €300 to €1,000, compared with €1,000 to €2,000 for those of its biggest European rivals, according to Perry. "There are European consumers who might be able to afford any bag they want," Burke says, "but they want something that is fashion-forward and that is also very American classic."
That's boosting Kors's European sales, which more than doubled to $140.3 million during the 2013 holiday quarter, accounting for 14 percent of the company's total revenue. Europe's luxury goods industry grew just 2 percent last year, slowing from a 5 percent rate in 2012, according to Bain.
Kors has 76 European stores, selling handbags, watches, shoes, and apparel, and plans to add 36 this fiscal year. CEO John Idol says Europe can support 200 locations and generate revenue in excess of $1 billion. The stores, in Europe's luxury retail strongholds, from New Bond Street in London to Via della Spiga in Milan, are doing well, he says, and the merchandise is selling out. Coach, another more-affordable luxury brand and an archrival in the U.S., has also opened stores in Europe, though it has about a third as many as Kors.
Before the financial crisis, many luxury consumers were loyal to their favorite high-end European brand and wore it head to toe, says Lorna Hall, chief of retail and strategy for the London fashion forecasting firm WGSN. "They wouldn't slum it," she says. The recession and slow recovery have led many European consumers to embrace more-accessible luxury fashion, Hall says, and the Internet has fueled an internationalization of taste. The typical European consumer now wears a mix of high- and low-end labels, she says: "She is more open-minded. She might have a Michael Kors bag and Gucci loafers and a Zara top."
Europe is the single biggest battleground for high-end brands—its residents and tourists buy 34 percent of the world's luxury goods, according to Bain. Globally, the luxury goods industry generated about $300 billion in sales last year, Bain estimates. Kors appeals to the aspirational European customer, who's hungry for new brands, as well as top-of-the-line shoppers, says consultant Burke. And tourists, including those from China, who had sought only French and Italian brands, now are buying Kors, he says.
Kors's European blitz has helped elevate the brand from relative obscurity there two years ago. In February 2012, its European holiday-quarter sales amounted to barely $28 million; just 35 percent of respondents to a company survey were aware of the designer. That compared with 70 percent in the U.S., where celebrities wear the brand and it has wider distribution in Kors's own boutiques and in department stores. Michael Kors gained fame for appearing as a judge on several seasons of the reality-TV show Project Runway.
Still, the company is less diversified than industry giants such as LVMH Moët Hennessy Louis Vuitton, which sells goods from cognac to fine jewelry, and Kering, whose brands range from Gucci to Yves Saint Laurent. And not everybody is a fan. Maria Maortua, a 29-year-old entrepreneur in Madrid, says the label is overexposed and isn't true luxury. "The brand name appears everywhere," she says.
Before it's here, it's on the Bloomberg Terminal.
LEARN MORE