Does Better Real Estate Data Encourage Racial Segregation?
by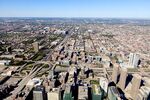 Among the many changes since the housing market came crashing down is the degree to which Americans have turned online to search for houses. As the market sputters back in fits and starts, online real estate sites have become more sophisticated—and have raised new questions. Teke Wiggin, a reporter at Inman News, a trade publication for real estate agents and brokers, has written a fascinating four-part series looking at how the proliferation of data available to home hunters may be undermining the goal of creating integrated neighborhoods.
Wiggin looks at real estate apps and websites that overlay localized data on sex offenders, school ratings, crime stats, and, most blatantly, neighborhood demographics, which can include everything from political leaning and educational attainment to age and race. Almost all of the data is from public sources, but what's new is the degree to which it has been packaged and presented with property listings.
Over time, fair housing laws have effectively limited which types of data real estate agents can share with buyers, Wiggin reports. But real estate listing sites generally haven't followed suit, with one exception: Redfin, which also has agents on staff, told Wiggin that it doesn't list crime and demographic data because "as a company of agents, we carefully adhere to fair housing laws involving things like discrimination and steering."
Wiggin expresses concerns that the data will help Americans further self-sort into like-minded communities, or, worse, increase segregation. Even seemingly benign data, such as school rankings, can have racial implications. As the New York Times's A.O. Scott wrote in an essay on race and gentrification last month, "New Yorkers, like most Americans—white, upper-middle-class Americans in particular—prefer to address such matters through an elaborate lexicon of euphemism and code, speaking of 'good schools,' 'sketchy' blocks and 'improvements' in the retail and culinary amenities."
Real estate agents, of course, have plenty of reasons to dismiss websites, which pose a threat to their business model by making public data that they once controlled. But the stories prompted a surprising range of online comments. Some wrote that the data was prone to errors and oversimplified the reality on the ground, but others supported the greater exposure. One, commenting on the story about sex offender data, said that "having the visibility and the opportunity to draw your own conclusions from additional layers of information is something that should be embraced." Another, on the piece looking at demographic details, wrote, "Please—let's leave this off limits for agents." He went on to add, "Our reputations suffered enough with red-lining in the 40's through 60's."
Before it's here, it's on the Bloomberg Terminal.
LEARN MORE