Cunliffe Says Dangerous for BOE to Ignore House Price Momentum
Jennifer Ryan and Scott Hamilton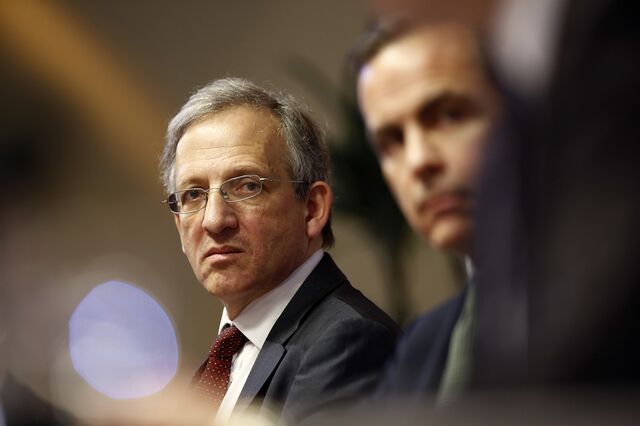 Bank of England Deputy Governor Jon Cunliffe said that spiraling property prices are the most pressing risk to Britain's financial stability.
"It would be dangerous to ignore the momentum that has built up in the U.K. housing market since the spring of last year," he said in a speech in London late yesterday. "The Financial Policy Committee will need to be both vigilant and ready to act."
The FPC, charged with overseeing financial stability, will publish an assessment of risks next month as the U.K. posts record gains in house prices. Annual property-price growth climbed to a seven-year high of 10.9 percent in April, Nationwide Building Society said yesterday.
"Whether and how to act further if, following the pause of the last couple of months, momentum continues to build, will be the most challenging judgment the FPC will have to take in the coming months," Cunliffe said. "The FPC's response will depend on the nature of the risks to stability identified."
The panel has told banks to improve capital levels after the financial crisis, and officials have withdrawn incentives for mortgage lending in their credit-boosting Funding for Lending Scheme. In March, the committee said a tool to make affordability testing of borrowers more stringent will be available as soon as June.
"The FPC's powers of direction in relation to the capital banks and building societies bear most directly on mortgage lenders' ability to weather a downturn and housing bust once it has emerged," Cunliffe said.
Underwriting Standards
The FPC could also make more specific recommendations to regulators on "crucial underwriting standards and affordability constraints like debt service to income, loan to income and loan to value," he said.
"The recent sharp increase in house prices and transactions appear to have fuelled growing expectations of an ever accelerating market," he said. "While inflation expectations in the U.K. are generally well anchored, it is a very different story when it comes to expectations for house prices."
The bank's Monetary Policy Committee has held its benchmark rate at 0.5 percent since March 2009, and under the forward-guidance policy introduced by Governor Mark Carney it's pledged no change until slack in the economy is used up. Cunliffe, who oversees the financial stability department of the BOE, is a member of both panels.
Significant Pressure
"The current exceptionally low level of interest rates will need to increase once the recovery is well established," he said. "So it is particularly important at present to ensure that the current low levels of interest rates do not mask the likely cost of mortgages and so create more headroom for prices to rise."
The number of U.K. housing transactions may have been reduced by 3 million between 2008 and 2012, Cunliffe said. While some of those may never be regained, many purchases have just been delayed until economic and credit conditions improve and this may "add significantly to pressure on the market for the next few years," he said.
Cunliffe said property market indicators suggest rising prices are set to continue, with some indicators pointing to double-digit price growth. The "sudden awakening" in the property market from a year ago may be due to a return of economic confidence and mortgage availability, he said.
Warning Lights
"It is difficult to know how much expectations are driving the current market," he said. "But there is good reason to believe that a mutually reinforcing combination of strong demand, weak supply and expectations of a rising market could lead to a period of sustained and very powerful pressure on house prices in the U.K."
In London, additional demand is coming from foreign investors looking for investments in a global environment of low interest rates, he said. A government program to help people with small down payments get on the housing ladder may also have contributed to demand, he said.
"There will always be a number of blinking warning lights -- risks generated at home and risks coming from abroad -- on our dashboard," Cunliffe said. "The growing momentum in the market is now in my view the brightest light on that dashboard."
Before it's here, it's on the Bloomberg Terminal.
LEARN MORE