business
China's Young Men Act Out in Factories
Now a majority at many plants, males harass, strike, and quit
By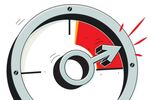 Foxconn Technology's factory complex in Longhua, Shenzhen, has three Olympic-size pools, numerous basketball courts, shops selling Haier minifridges and Xiaomi mobile phones, even a teahouse, the Foxconn Café. The Taiwanese company, which experienced a rash of worker suicides four years ago, has tried to make a community for the 135,000 migrant workers assembling iPads and Hewlett-Packard servers.
Twenty-one-year-old Bai Yaojie, a Foxconn worker, says he isn't impressed. "Sure, wages are higher here than in my hometown, but I have friends and family back there," says Bai, a native of Gansu province who earns more than 2,000 yuan ($220) a month. "Work here on the line is extremely boring and life feels meaningless," he says, adding that he plans to return to his village by yearend, get a driver's license, and start driving his own truck.
As China's first generation of migrant workers reaches retirement age, their children are taking over factory jobs. In a marked shift from an earlier era when women dominated many production lines, more of these workers are young men. Many are creating new challenges on the factory floor, including increased impatience with rote work and higher turnover rates.
"When the older generation came to the coastal cities, their purpose was relatively simple: making money," says Louis Woo, special assistant to the chief executive officer of Foxconn, adding that the factory workforce is now about two-thirds male and more "rowdy" than when it was half female five years ago. "The younger generation doesn't want to continue doing work that is very mundane," he says. Turnover, at 5 percent to 10 percent a month in the electronics sector, is one of Foxconn's biggest challenges.
The men bring other problems with them: Seventy percent of the 134 female factory workers surveyed in Guangzhou last fall reported experiencing sexual harassment, including offensive comments, leering, and groping, with 15 percent quitting their jobs as a result, according to the Sunflower Women Workers Centre, the nonprofit that conducted the survey. "There are far more men than I expected. Sometimes they act uncivilized, and that makes me uncomfortable," says 22-year-old Li Meifeng, who came to Foxconn more than six weeks ago.
The majority male workforce may in part be responsible for a record number of strikes. The recent walkout at Yue Yuen Industrial Holdings, a Taiwanese-owned supplier to Nike and Adidas in Dongguan, Guangdong, involved thousands of workers at its factory complex. Of the 100 workers leading the strike, all were men, says Dee Lee, director of the Inno Community Development Organization, which runs a grievance hotline for the workers. A higher male ratio "is definitely good for labor organizing," says Wang Kan, a professor at the China Institute of Industrial Relations. "They start strikes by appealing to other male workers' sense of manliness."
Companies are trying new ways to keep their workers from striking or quitting. Both Foxconn and rival Flextronics International, which assembles Xboxes, say "date nights" where single workers can meet are their most popular organized leisure activities. And grievance hotlines often end up being used for lonely hearts counseling, usually for men, the most frequent callers. "Most of them are pretty young, so at this age they are looking for love," says Zhou Lijuan, a Foxconn psychological counselor. "Before, workers were most concerned about supporting their family back in the village," says 26-year-old Henan native Qing Pengxu, the leader of a 60-person assembly line at Flextronics in Zhuhai. "Now they ask, are there many women in this factory? They want to find their future wives on the job."
Before it's here, it's on the Bloomberg Terminal.
LEARN MORE