Blue Bottle Coffee and the Next Wave of Artisanal Coffee Shops
Blue Bottle Coffee and the next wave of ultra-finicky java joints
by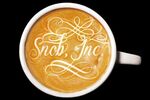 This is going to be pleasant. We are going to talk about philosophy and classical music. We are going to appreciate things. I know this before I even see Blue Bottle Coffee founder James Freeman approach in his cardigan, tie, and glasses, a neat puff of gray hair bobbing professorially, looking like the guy PBS producers would have sent in to calm Mr. Rogers down. I anticipated the civility simply by looking around his new cafe in Oakland, Calif. Everything is tidy. Calm. Simple. Exact. You cannot order your espresso to go, choose a beverage size, or get your bag of coffee beans pre-ground. Oh no. This is not because Freeman wants to inform you of his superior ways but because he can't bear to be responsible for an imperfect experience. Because he so deeply cares.
Which makes Blue Bottle's expansion difficult. The Oakland-based, 13-store coffee chain has no problem with financing. Its biggest tech play may be using iPads to ring up customers' orders, yet it has proven irresistible to Silicon Valley investors, including Google Ventures, True Ventures, Instagram co-founder Kevin Systrom, Twitter co-founder Evan Williams, Flickr co-founder Caterina Fake, WordPress founder Matt Mullenweg, and former Google executive Chris Sacca. Blue Bottle got $19.7 million in venture funding at the end of 2012; it received an additional $25.75 million in January (led by Morgan Stanley) before Freeman figured out how to use the first round. Even after earmarking $5 million to expand to Japan, plus more to draw up plans for a roastery and stores in Los Angeles and buy out the stake Kohlberg & Co. purchased in 2008, Blue Bottle was still sitting on $29 million in March—more than the company's annual revenue. It spent some of that money in April, buying L.A.'s Handsome Coffee Roasters and the coffee subscription service Tonx, but it's still spending the money slowly.

It's partly because Freeman is a control freak. It took him years just to find a way to sell a grocery store version of his iced coffee, which is finally available at California Whole Foods stores. (Instead of heating it, pressurizing it, and bottling it in glass like a normal person, he's treating it like milk, putting it into a box with a four-day sell-by date.) New baristas have to pass a test in front of a jury, as if they're applying to music school. And unlike his competitors, Freeman won't build his business in the fastest, most logical way: selling his coffee to lots of other cafes or supermarkets. Only 20 percent of Blue Bottle's revenue comes from wholesale, whereas his main competitors, he guesses, are closer to 75 percent. To explain why, he quotes Camus: "Happiness and the absurd are two sons of the same earth. … The struggle itself toward the heights is enough to fill a man's heart. One must imagine Sisyphus happy."
But Freeman can't really picture that kind of happiness. People in other cafes, he fears, will make the coffee wrong. Or make hot drinks with beans that are more than 10 days old. At a gelato store across the street from a huge Intelligentsia cafe in Los Angeles—one of Blue Bottle's biggest rivals in the artisanal coffee movement—he saw the word "Intelligentsia" misspelled on the menu, even though the ice cream servers could nearly see the cafe's giant sign through their window. That typo haunts him.
"With wholesale, the boulder will always roll down. If you're upset that the boulder rolls down, you're destined for a life of disappointment," he explains. He told this to a class at the Stanford Graduate School of Business and then asked how many of them had ever read Camus. None, he said, raised their hand. Freeman, too, it seems, is destined for a life of disappointment.
 
 
It turns out he's quite used to sticking out among the non-Camus readers. Freeman grew up in Humboldt County, known as the country's agricultural center, for marijuana. "Everyone listened to AC/DC and smoked pot, and James rebelled by not smoking pot, playing the clarinet, and listening to opera. He got beat up and couldn't wait to leave," says Caitlin, his wife and Blue Bottle's pastry chef. "When we started dating he'd heard of the Beatles, but he never listened to the Beatles. James is a nerd."
In 2002, after a decade of playing clarinet in the Bay Area, Freeman realized he wasn't going to get called up to the clarinet big leagues, so he started roasting coffee in a potting shed a few miles from his Oakland apartment and selling it at a farmers' market in Berkeley. He named his stall after Hof zur Blauen Flasche, the 17th century Viennese cafe that birthed coffee houses. Caitlin had a stall nearby, selling baked goods. "He was married and had a son on the way and I had a boyfriend I lived with. But we were both so consumed with our businesses that our relationships fell apart," Caitlin says. "It started as, 'I like hanging out with you, and you're not putting any pressure on me not to work.' "
Eventually, Freeman gave Caitlin a bag of beans to use in her stand's coffee machine. "It was James's one effort to make a sales pitch," she says. "He's definitely not a naturally born salesperson." Eventually Caitlin, who didn't drink coffee and was bad at making it, gave him her cart, topped by a pink umbrella, and Freeman started selling beverages. In January 2004, when the Fancy Food Show was nearby at the Moscone Center, Freeman amassed a line 15 people deep at the farmers' market at the Ferry Building. The line never went away.
He opened cafes in San Francisco and Oakland, and, in 2010, brought Blue Bottle to New York, where he is about to open his seventh location, across from Bryant Park. He doesn't like to ship beans, for both freshness and environmental reasons, so his expansion plan involves making a big investment in a roastery and then opening several cafes nearby using those beans. Like the other third-wave coffee shops (the first wave was commodity coffee; the second was Starbucks and the other chain cafes, such as Caribou Coffee and Peet's), Blue Bottle buys high-end, single origin beans from small producers and roasts them lightly, imbuing the coffee with a far greener taste than the dark, oily version Starbucks is known for. And, other than mochas, Blue Bottle doesn't do flavors. And it definitely doesn't do shakes.
Blue Bottle's main three competitors are Chicago's Intelligentsia Coffee, Portland's Stumptown Coffee Roasters, and North Carolina's Counter Culture Coffee, but local minichains, such as Philz Coffee, are popping up almost monthly. "It looks like a growth opportunity," says Bonnie Riggs, a restaurant analyst for NPD Group. While commodity coffee sales have been flat for decades, specialty coffee, which includes chains such as Starbucks, grew 5 percent in 2012 and 7 percent last year. Stumptown, like Blue Bottle, took a big investment from private equity group TSG Consumer Partners, Philz got eight figures from Summit Partners, and Sightglass took cash from Twitter co-founder Jack Dorsey. "You're seeing this kind of funding apply to coffee, to which some people might say, 'Whoa! What is this?' But to people in it, we are like, 'Damn right,' " says Matt Lounsbury, Stumptown's vice president. "We're seeing the greatest growth in Oregon outside of Portland, in the Sherwood, Oregons, of the world. Just because folks are in the burbs, doesn't mean they don't want good coffee." To counter the third-wave cafes' growth, Starbucks bought the company that makes the Clover, a high-tech, single-cup coffee maker, and uses it with single-origin beans at more than 750 of its stores globally.

Tony Conrad, a partner at True Ventures, which has funded tech companies such as Fitbit and WordPress, persuaded his firm to invest in Blue Bottle because he believes third-wave coffee is going to be the most lucrative sector of the artisanal food movement. "Everywhere there is a Starbucks, could you put a third-wave place across the street? Absolutely," he says. For now, though, Blue Bottle is a very 1 percent, blue-state, urban phenomenon.
Conrad is meeting me at Blue Bottle's original store, on a tiny alley in San Francisco called Linden Street, which has transformed in the last few years into a hipster amusement park: There's a microbrewery, a made-to-order, liquid-nitrogen ice cream stand, a corset shop, and another local third-wave coffee shop called Ritual. On a seedier street a few blocks away, an old laundromat has a tiny window where a barista serves Verve coffee, a third-wave roaster from Santa Cruz.
Conrad put his firm's money on Blue Bottle, partly because he's a longtime customer. But also because of Freeman's distinct take on coffee culture. "We look for people who can be the founder of a movement: Caterina Fake at Flickr, James Park at Fitbit, WordPress's Matt Mullenweg with blogging, MakerBot's Bre Pettis with 3D printing. Did they invent those things? No. But they're the face of it. James has got a magic about him," he says.
 
 

If Stumptown is cool in a motorcycle, hard-rock way, and Intelligentsia is rugged and sporty, then Blue Bottle is achingly earnest, like Dave Eggers. "I get a lot of boy energy in those shops. I get a lot of 'grrrr,' " says Freeman of his main competitors. "I don't get that at our shops." You don't get a lot of grrrr when you sell $150 pajamas with the Blue Bottle logo on the pocket. The only overtly hip thing Blue Bottle has done is sell, in its Brooklyn shop, an espresso blended by James Murphy of LCD Soundsystem. The closest Blue Bottle has had to a badass moment was when it got a cease-and-desist letter from the sculptor Richard Serra after Caitlin made a cookie based on his 1969 sculpture, Right Angle Plus One, at their cafe upstairs at the San Francisco Museum of Modern Art. (Cindy Sherman, however, loved the pastry based on her photos.)
Blue Bottle's vibe is conveyed to customers subtly: The words "organic" or "fair trade" don't appear anywhere on the menu. They're assumed. There are no outlets or Wi-Fi. Starbucks wanted to create the third place, neither work nor home, which eventually morphed into Starbucks as cheap office space for freelancers. Blue Bottle's model is a restaurant: Enjoy your beverage and get out. The relationship Freeman is fostering isn't between you and your computer or even you and other customers. He wants you to talk to the barista. About coffee.
"Someone who just gets a large iced latte in a to-go cup and sits in front of the computer doesn't seem like they care much about the craft," Caitlin says, explaining her husband's philosophy. His level of obsession can annoy people. "They don't want to sit there and revere this kid with tattoos who made them a latte. It can be polarizing."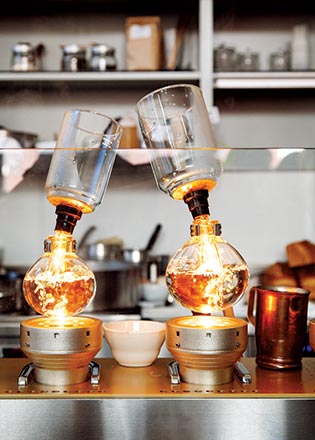 So that each location feels like an individual restaurant, and not another chain for people to type in, Freeman tries to make each cafe respond to its neighborhood. In fact, more than making great coffee, Freeman's greatest skill might be in picking locations. Which he does mostly by deciding that something seems interesting. Despite having an accountant father, he's not a numbers guy and kept his business going mostly on his own frugality until finally hiring a chief financial officer less than two years ago. He's far more interested in protecting his brand than in quarterly earnings. He has no revenue goals other than that each location should be profitable in one to two years. Even the people he has surrounded himself with to help with the business side don't seem too numbers-oriented.
After picking a spot for a new cafe, usually in a part of town that's a few years from being gentrified, he spends a lot of time creating slideshows to demonstrate the feel he's going for: A store in Brooklyn was inspired by Proust's bedroom; in Manhattan, the Chelsea one draws on Burt Bacharach; one he's hoping to open in Culver City, Calif., in an old Datsun showroom, is supposed to feel like Margot in a Lacoste minidress from the Wes Anderson movie The Royal Tenenbaums. You can see why he got beat up a lot in high school.
Wes Anderson also inspired the new cafe I'm sitting in with Freeman, in Oakland's W.C. Morse building. It's a dumb place to open a high-end coffee shop: a neighborhood with no walking traffic, right across from a high school. Yet it's packed. All the time. With people who look like they'd be Freeman's friends. "I got such flack for signing this lease," Freeman says as a guy named Joachim walks around with a wooden tray, offering coffee samples in tiny glasses. "Architecture sometimes wins." The 1922 building had been empty for 25 years, having once been Oakland's first truck showroom. In the back, a mechanic fixes old home espresso machines people drop off, since that fits with an old auto dealership. "I had this idea that there were broken La Pavoni machines up and down the Oakland Hills," Freeman says. Three customers were turned away with their machines this morning since they are already 14 repairs behind; they're hiring a second mechanic. There are, it turns out, James Freemans everywhere.
As Freeman and I are drinking Cascara Fizzes, a $3 soda Blue Bottle makes out of tea from coffee cherry husks and lemon ("This is the best Arnold Palmer I've ever had," says Freeman, defensively, about producing something so far afield from pure coffee. "It's not like, 'What about pumpkin in our coffee!' "), a customer approaches. Andrea Restrepo asks if she can open a Blue Bottle franchise in Newport, R.I., which of course she cannot, since franchising would take away way too much control from Freeman. Restrepo compliments the stores' subtle signage, which makes them hard to find, imbuing them with an exclusive, in-the-know feeling. Freeman explains that isn't the point. He actually bought a big, $400 flag for this store, but, he says, "the background was too gray. We're not good at signs. We should have bigger signs. It's not from the perspective of being exclusive or hard to find. I just haven't found a sign I'm into. I don't like extra stuff."
The drinks at this location are made behind one huge stainless steel table with only seven thin pipes connecting it to the ground, through which all the electricity, water, and data travel. Freeman points out a design flaw that he couldn't get around because of health code rules; it takes me almost a minute to even see it: Two of the seven pipes have tiny washers on them. "They don't ruin it for me," Freeman says, though they clearly do. When I ask him what would be the highest price people will pay for a cup of coffee, he starts to answer but quickly becomes distracted by something far more interesting to him, which is how to make a perfect sign. "I've never liked blackboards, so that's been a challenge. How do you express a menu that changes constantly? It's pretty inexpensive to print on wood slats. We've got the next several months [of bean selections] printed on wood." Then, before I can repeat my question about coffee economics, he's got his iPhone out, searching for photos he's taken of Japanese noodle shops with their menus written on hanging wooden slats. It would be sad to stop him. Plus, it wouldn't work. Freeman can't focus on economics. He's got details to attend to. He's going to have that cash for a good long while.
Before it's here, it's on the Bloomberg Terminal.
LEARN MORE