Why Putin's Potential Retaliation Against Western Oil Giants Could Backfire
By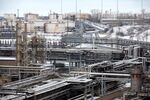 Big Oil could become the next victim of economic warfare between Russia and the West. At least that's what Vladimir Putin seems to be threatening after the U.S. and European Union ratcheted up sanctions against Moscow. "If something like this continues," the Russian president warned on Wednesday, "then of course we will have to consider who's working and how in the Russian Federation, in the key sectors of the Russian economy, including energy."
It's true that U.S. and European oil majors look pretty vulnerable. Consider:
• ExxonMobil has drilling rights to some 46,000 square kilometers (almost 18,000 square miles) in Russia—its biggest such holdings outside the U.S. It also has pledged $3 billion to finance an Arctic drilling venture with state-controlled oil company Rosneft that could contain some $900 billion worth of crude.
• BP owns 19.75 percent of Rosneft, making it the company's second-largest shareholder after the Russian government, and its chief executive officer, Bob Dudley, sits on Rosneft's board.
• Royal Dutch Shell owns 27.5 percent of the Sakhalin-2 oil and gas project off Russia's Pacific Coast that's controlled by gas export monopoly Gazprom. Shell also has stakes in Siberian oilfields.
• Total of France owns 40 percent of the Kharyaga oil field in the Russian Arctic. It also owns 17 percent of Novatek, an energy exploration company in which Gennady Timchenko, a close Putin ally, is a major shareholder. (Timchenko is on the U.S. sanctions list, but Novatek isn't.)
Still, Russia stands to lose more than the Western companies if Putin lashes out with stiff sanctions, says James Henderson, a senior research fellow at Britain's Oxford Institute for Energy Studies. Western oil majors are providing "technology, financing, levels of management expertise," he points out, and Russia needs that help to develop its own vast energy reserves.
Under Soviet rule, Russia fell far behind the West in developing technology to tap new oil fields in remote locales or squeeze hard-to-get deposits from older sites. ExxonMobil, for example, is providing fracking technology to Rosneft in Western Siberia and furnishing the technical know-how and financing for the joint Arctic venture. Disrupting such ventures "is not in Russia's interest," Henderson says. "It would set an appalling precedent for future investment" in the country's energy sector.
Russia really can't afford to mess this up. Revenues from oil and gas exports generate about half the government's income, and the economy is looking worse by the day.
BP may be in the most-delicate situation of any Western oil major because of its ownership stake in Rosneft. Igor Sechin, Rosneft's chief executive, has been placed on the U.S. sanctions list, even though the company has not. But the sanctions could reduce the clout of a Rosneft board member: Dudley, as a U.S. citizen, is now barred from having direct dealings with Sechin.
Dudley told analysts and investors during a conference call Wednesday that he would continue to attend board meetings and declined further comment. A BP spokesman told Bloomberg News: "We will comply with all relevant sanctions. But we also want to make clear we remain committed to our investment in Russia."
Rather than imposing sanctions on Big Oil, Henderson warns that Russia might retaliate by targeting individual executives, just as the U.S. did with Sechin. "They could make life difficult for them, without disenfranchising them," he says.
Before it's here, it's on the Bloomberg Terminal.
LEARN MORE