The Wonderful and Mysterious Collapse of Crime Involving American Children
By
Crime against children dropped across the board during the last decade, as children and their caregivers reported lower rates of everything from physical assault to sexual violence to even bullying in 2011 than in 2003, according to a new analysis of survey data published in the medical journal JAMA Pediatrics this week. The declines held steady after the 2008 financial crisis and resulting spike in unemployment destabilized millions of American homes.
Surveyors asked thousands of households about 50 types of experiences—including crimes targeting children, exposure to violence as witnesses, and participation in delinquent behavior such as violence or vandalism. "Of 50 specific trends examined between 2003 and 2011, there were 27 significant declines and no significant increases," wrote researchers from the University of New Hampshire and Sewanee: The University of the South.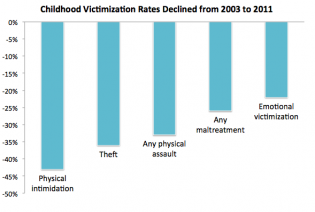 Even during the recession, the experiences that researchers asked about didn't increase and 11 trends showed meaningful declines from 2008 to 2011. The surveyors queried a random sample of U.S. households, talking to children ages 10 to 17 or caregivers for households with kids ages 2 to 10. In cases where surveyors found serious threats or abuse, the report noted that clinical workers trained in crisis counseling were designated to follow up "until the situation was appropriately addressed locally."
The findings are consistent with broad declines in national crime rates since the 1990s and other evidence that violent crime against youth dropped substantially in the last generation. That's a statistical comfort when considering troubling accounts of bullying, school shootings, and child abuse in the news. Those individual events—disturbing and tragic as they are—obscure the larger story that today's children, in aggregate, appear to be exposed to much less violence than their parents were.
The authors of the study didn't investigate the causes of the decline in crime they measured, but the paper floats several possible explanations: Programs intended to prevent bullying or sexual violence may be succeeding, and the growing use of psychiatric medicines to control aggressive behavior might also be a factor.
The effect of evolving technology remains an unknown variable. The Internet has changed how kids socialize, and the study notes that "they may be spending less time in face-to-face contact situations where assaults and violence can occur." While the paper shows that the victimization of children is declining, we have more questions than answers about why.
Before it's here, it's on the Bloomberg Terminal.
LEARN MORE