Supreme Court Strikes Blow Against Coal Power, Debates Smartphone Privacy
Paul M. Barrett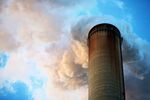 It was a good day at the Supreme Court for clean air, and a bad day for Big Coal.
The justices on Tuesday upheld an Environmental Protection Agency rule designed to cut pollution that causes smog and acid rain. The 6-2 ruling backed the EPA on a rule targeting air pollution that crosses state lines. "This is a big win for the nation's public health," EPA Administrator Gina McCarthy said in a statement.
Writing for the court, Justice Ruth Bader Ginsburg said: "EPA's cost-effective allocation of emission reductions among upwind states, we hold, is a permissible, workable and equitable interpretation" of the law."
My Bloomberg News colleague Greg Stohr summed up the potential implications:
The ruling may prompt utilities such as Southern Co., Energy Future Holdings Corp.'s Luminant and American Electric Power Co. to shutter coal-fired power plants or invest billions of dollars in new pollution-control systems. The Obama administration says the rule will prevent as many as 34,000 premature deaths a year.
"This looks like a total vindication of the Obama administration's EPA efforts to clean up dirty coal-fired power plants," John Walke, clean air director at the Natural Resources Defense Council, told Bloomberg News.
Texas and 13 other states had challenged the EPA's rule along with Entergy, Edison International, Peabody Energy, AEP, Southern, and the United Mine Workers of America labor union. Justices Antonin Scalia and Clarence Thomas dissented from the ruling. Justice Samuel Alito didn't take part in the case; he didn't give a reason. "Today's opinion is a textbook example of how a court established to ensure government by the people can instead assure government by the bureaucracy," Scalia said from the bench.
In a separate case with potentially broad business and social ramifications, the justices heard arguments on whether the police must get a warrant before searching the mobile phone of a suspect who's been arrested. According to Stohr, the court "struggled to define the reach of privacy in the digital age. … In a two-hour argument that touched on Fitbits, Facebook, and emerging encryption technology, justices across the ideological spectrum suggested they weren't prepared to give police unfettered power to search a person's phone." A decision is expected by July.
Before it's here, it's on the Bloomberg Terminal.
LEARN MORE