Portuguese Tug-of-War Over Miro Works Is Surreal
by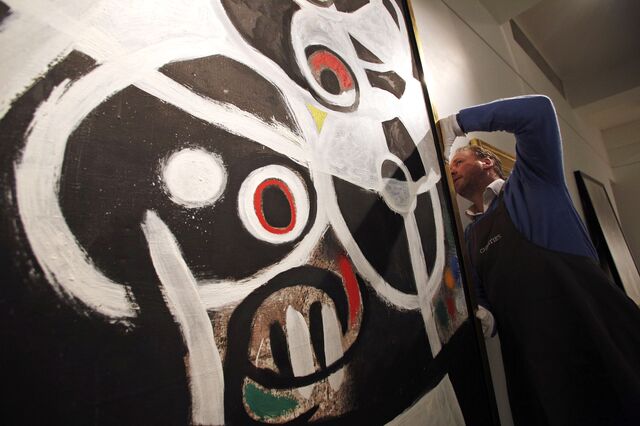 People rose up in outrage when the Portuguese government tried to sell 85 paintings by Joan Miro in February. Opposition politicians sued to keep the famous Iberian modernist's work in Portugal. A temporary injunction issued late last week says it will stay for now.
The thing is, the Miros were never that public to begin with. The collection was never exhibited in Portugal. Lisbon acquired it six years ago when it took over the struggling Banco Portugues de Negocios, which owned the paintings. It isn't really a national birthright thing, either, as Miro was a Catalan who lived and worked in Spain.
So, other than politics as usual, why the national indignation over the loss of a cultural treasure the Portuguese people never really owned?
The answer lies in the half-public, half-private role of corporate art collections.
Deutsche Bank has more than 57,000 works, often lends its art to exhibitions around the world and runs its own gallery in Berlin showcasing the collection. Bank of America has a sweeping loan program called Art in Our Communities under which it offers free, complete exhibitions to local and international arts organizations. PepsiCo turned its corporate headquarters into a 168-acre sculpture park , with massive works by Auguste Rodin, Alexander Calder, Henry Moore and others. The companies own an appreciating asset, and the public gets to see art that might otherwise be hidden away on a billionaire's wall.
It's so nice, it's easy to forget: It isn't yours. And because it's theirs, it's generally theirs to do with as they please. As the Readers Digest Association trudged toward bankruptcy, the 1998 sale of its collection at Sotheby'snetted $90.5 million .
When Portugal came under strain in the European financial crisis, those Miros started looking pretty juicy, like the cartoon bird that turns into a chicken on a spit in the eye of the hungry beholder. They were never going to put a dent in the nation's fiscal problems, but the government was obligated to get the most out of the assets, to ease the burden of seizing the bank.
The protests showed that corporate art, even a collection the public has never seen -- and perhaps especially one it has never seen -- can carry an immense and poignant cultural and social significance.

Art isn't forever. Neither are corporations. Both are forever for sale.

Before it's here, it's on the Bloomberg Terminal.
LEARN MORE