A Mapping Tool That Demystifies the Link Between Transportation and Jobs
How factors like transit mode and commute time affect job access in the New York metropolitan area.
Jenny Xie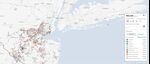 Just how much does where you live affect the number of jobs available to you? This complex question is now much easier to visualize, thanks to a new interactive map from the Regional Planning Association, an urban advocacy group focused on the New York metropolitan area.
Using the latest Census data as well as traffic and transit data from local transportation agencies, RPA's new map unpacks job access with excruciating detail. Drop the pin anywhere in the tri-state area and you get a realistic picture of available jobs -- filtered by industry, education level, transit mode, and commute time.
Aside from showing unsurprising big-picture observations -- i.e. that more jobs are accessible along a major train line or that finance jobs are concentrated in Manhattan -- the map can also uncover nuanced scenarios ripe for further study.
For example, throughout the map, choosing to drive a car generally yields more job options than choosing public transit. But not always. Drop a pin at Princeton Junction rail station (a stop on the New Jersey Transit line that goes into Manhattan) and set the commute time to 70 minutes or more. As seen in the screenshots below, the number of jobs available via transit surpasses the number of jobs reachable by car. What matters is whether the commuter is able to get into New York City within the set time frame. 




Princeton Junction is an example of where "traffic is just bad enough and transit is just good enough," according to Juliette Michaelson, Vice President for Strategy at the RPA.
The RPA recently started working towards the next once--in-a-generation blueprint for improving the tri-state area. This jobs access map is just a small component of figuring out how the region should grow, but additional iterations are already underway.
The organization will use the same data sets to create a map geared toward employers. Business owners looking for a place to set up shop, for example, would be able to click around the region and explore their labor pool. They can quickly visualize how many people with a certain level of education and a specialty live within x minutes of a particular location. 
Another feature will let you observe the impact of the in-progress Second Avenue subway train, as well as possible new tunnels under the Hudson River.