UK Economic Growth Quickens to 0.8% as Recovery Broadens
Jennifer Ryan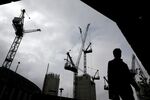 U.K. economic growth accelerated in the first quarter as the recovery broadened, leaving output excluding oil and gas back above its pre-recession peak.
Gross domestic product expanded 0.8 percent from the final three months of 2013, when it grew 0.7 percent, the Office for National Statistics said today in London. That compares with a median forecast of 0.9 percent in a Bloomberg News survey. Growth from a year earlier was the most in more than six years.
Britain is on track to have the fastest-expanding economy of any Group of Seven nation in 2014, raising the prospect that Bank of England policy makers may raise borrowing costs by year-end. Storms depressed construction in the first quarter and BOE Governor Mark Carney said in a newspaper interview published today officials are "prudently optimistic" about the economy.
"With business surveys, employment and confidence all continuing to show significant strength we remain upbeat on the U.K.'s growth prospects," said James Knightley, an economist at ING Bank NV in London. "The risks remain skewed toward earlier Bank-of-England policy tightening than the second quarter of 2015 point currently penciled in by markets."
The pound was trading at $1.6830 at 2 p.m. London time, up 0.1 percent from yesterday. The 10-year gilt yield was 4 basis points higher at 2.7 percent.
Each of the main categories posted quarterly growth between January and March. Industrial production rose 0.8 percent, with manufacturing expanding 1.3 percent, the fastest since the second quarter of 2010. Construction grew 0.3 percent amid evidence that storms in January and February forced builders to put projects on hold, though there are signs output is bouncing back. The ONS said the weather did not have a "significant impact" on growth.
Output Recovery
Services -- the largest part of the economy -- increased output by 0.9 percent, with finance and business services such as recruitment agencies making the biggest contribution.
GDP grew 3.1 percent from a year earlier, the biggest annual increase since the fourth quarter of 2007. Output, up for five consecutive quarters, is now 0.6 percent below its pre-recession peak in early 2008. The onshore economy climbed 0.3 percent above its peak. Britain lost 7.2 percent of output during the biggest slump since World War II.
It is "very likely" that the U.K. will regain all lost output in the current quarter, Jonathan Loynes, chief European economist at Capital Economics Ltd. in London said.
Britain is the first G7 nation to report first quarter GDP. The International Monetary Fund forecasts the U.K. to outperform its major-economy peers, with growth of 2.9 percent this year.
New Projections
The rebound has made the pound the best performer among 10 developed-market currencies tracked by Bloomberg, with a gain of almost 10 percent over the past year. WPP Plc, the world's largest advertising company, said last week that first-quarter revenue rose 1.5 percent, driven by increased U.K. business.
"Today's figures show that Britain is coming back," Chancellor of the Exchequer George Osborne said as he vowed to stick to his budget-cutting plans. "The impact of the Great Recession is still being felt, but the foundations for broad-based recovery are now in place."
BOE officials meeting May 7-8 will have new economic projections prepared for the quarterly Inflation Report due May 14. Carney told the Bristol Post newspaper that the recovery is broadening, though there remains "'considerable slack'' in the labor market.
With unemployment already below the 7 percent threshold at which they'd pledged to consider raising rates, the Monetary Policy Committee has vowed to maintain the benchmark rate at a record-low 0.5 percent -- its level since March 2009 -- until the economy has used up more of its spare capacity.
Rate Bets
Officials raised their growth forecasts at their April meeting, predicting a preliminary estimate of 0.9 percent in the first three months of the year and a final estimate growth of about 1 percent in the first and second quarters.
One-month forward Sonia contracts signal the central bank will boost the key lending rate 25 basis points by next April, with the rate reaching 2 percent by the end of 2016. Five of 32 economists in a Bloomberg survey compiled this month expect a rate increase in the fourth quarter of this year.
The Bank of England said today its first public set of stress tests will assess the eight biggest U.K. lenders on how they would cope with 4 percent interest rates coupled with a 35 percent fall in house prices.
''Much has been achieved in recent years to put the U.K. banking system on a sounder footing so that it can support the U.K. economy,'' Carney said in a statement. ''The Bank's annual stress test will help ensure our banks support that expansion by remaining resilient.''
Political Battle
Osborne and Prime Minister David Cameron are struggling to turn the recovery into votes, with little more than a year to go before the next general election. Conservative strategists are counting on signs that a five-year squeeze on living standards is easing to boost support for the party, which trailed behind the Labour opposition by 5 percentage points in a YouGov Plc poll published April 25.
''At the next election, after five years of this chancellor, will working people be better off than they were in 2010? Yes or no?'' Ed Balls, Labour's economy spokesman, said during exchanges with Osborne in the House of Commons today.
Osborne responded by mocking Balls, a Treasury minister in the run-up to the financial crisis, over an incident this month in which he crashed into a parked car while making a turn and drove off without informing the owner. Balls later issued a statement saying he was unaware of any damage until he was contacted by police, and had apologized to the owner and offered to pay for the repairs.
Car Crash
''He's the man who quite literally crashed the car," Osborne said. "He's apologized to the lady whose car he crashed into. Why doesn't he apologize to the British people?"
Business investment is starting to contribute to a recovery that has so far centered on a booming housing market and the willingness of consumers to finance their spending by saving less of the income as inflation outstripped wage growth.
"We expect this relatively sprightly pace of GDP growth, of about 0.8 percent, to be broadly maintained into the second half of this year," Ross Walker, an economist at Royal Bank of Scotland Group Plc, said in a research note. "Our medium-term outlook is more cautious, however, with fiscal and monetary policy tightening being stepped up in 2015."
Today's figures are the first estimate of GDP and based on 44 percent actual data and 56 percent forecasts, the ONS said.
Before it's here, it's on the Bloomberg Terminal.
LEARN MORE