Obamacare Co-Ops Undercut Insurance Giants. Can They Survive?
By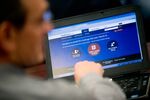 A 30-year-old New York City resident can buy coverage from Health Republic, a startup nonprofit insurer, for $307 per month. A similar policy from Aetna costs $528 per month—71 percent more. Both are "bronze"-level plans with $3,000 deductibles and similar cost-sharing rules. Why are the price tags so far apart?
Health Republic is one of 23 "consumer operated and oriented plans," or co-ops, created through the Affordable Care Act via $2 billion in low-interest federal loans. To some big insurance carriers, premiums such as Health Republic's look too low—that is, the fees collected won't be sufficient to cover the medical claims of members plus the cost of running an insurance business.
Talking to analysts last week, Aetna Chief Executive Officer Mark Bertolini described some co-op prices as "irrational." He noted that Aetna "actually withdrew from those markets as we were asked to meet co-op rating." UnitedHealth CEO Stephen Hemsley made a similar observation earlier this month about the small group market in New York. "We believe several carriers there, including new entrants, are pricing well below cost, and what we would view as unsustainable pricing levels," he told analysts.
Co-op proponents make the opposite argument. While Health Republic declined to comment Monday, Martin Hickey, chairman of the trade group for co-ops, says they can offer better prices because they don't have to build profits into their prices. Large national insurers "have shareholders, and they have to generate a return," says Hickey, who is also chief executive of the co-op New Mexico Health Connections. "The problem that traditional insurers are having right now is they don't know how to compete."
A little history: Back when the Affordable Care Act was being drafted in 2009, there was a big debate over whether the law would include a "public option"—a government insurance plan, like Medicare, that would be available to anyone and would compete with private insurers. The insurance lobby hated this idea, and it didn't make it into the bill. The co-ops were created as a concession to fans of the public option who sought more competition in the insurance markets. (They were later drastically scaled back.)
Aetna and UnitedHealth have decades of experience writing health-insurance policies and determining how much they need to collect in premiums to pay for medical claims. That would suggest they have a pretty good sense of how to set rates. And even though co-ops don't have the same need to please Wall Street with profits, that alone doesn't account for premiums that are sometimes 50 to 60 percent lower than traditional competitors, says Jonathan Wu, an economist with insurance comparison website ValuePenguin. "I don't see how just by being nonprofit you could try and cut that much off," he says.
Some plans kept prices low to attract new customers and gain market share in the first year. They may have been betting on the law's risk-sharing provisions, which help to cushion unexpected losses, as a safety net if their initial premiums prove too low. Other companies with higher rates may have anticipated a more costly—i.e., less healthy—pool of enrollees now that insurers can't turn away people with preexisting conditions. "Every single health plan that was sold on the exchange in 2014 had to guess at how to price it," says Ceci Connolly, managing director of PricewaterhouseCoopers's Health Research Institute. "At best it was informed guesswork, but it was still guesswork."
So are Health Republic's prices too low, setting customers up for big rate hikes in the future? Or are Aetna's prices too high, meaning the insurer will be forced to lower rates or lose customers? It may be years before we know. Insurers are right now preparing rates for 2015, and they will have only a few months of claims to go on. Rates for 2016 and following years will more accurately reflect the risk pool. The direction they go will reveal a lot about whether Obamacare can deliver on its promise to use market competition to hold down health insurance costs.
Before it's here, it's on the Bloomberg Terminal.
LEARN MORE