Jilted Mylan Chases Mergers as Rivals Do Deals: Real M&A
Brooke Sutherland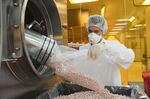 Drug deals are back and Mylan Inc. wants in.
Chief Executive Officer Heather Bresch, who said in February that the company was "poised for a transaction this year," is still empty-handed after a sweetened $6.7 billion bid for Meda AB was rejected this week. While Sanford C. Bernstein & Co. said the $19 billion company could approach Meda again, Needham & Co. said Mylan instead may set its sights on another target such as $5.1 billion Hikma Pharmaceuticals Plc. Buying Mallinckrodt Plc would help the generic-drug maker diversify and lower its tax rate, Piper Jaffray Cos. said.
Mylan is seeking a purchase amid a frenzy of industry consolidation that's included Actavis Plc's bid for Forest Laboratories Inc. and Valeant Pharmaceuticals International Inc.'s offer for Allergan Inc. Shareholders have pushed the stock up 17 percent this year on speculation of a deal, and without one, Mylan risks losing those gains, Needham said. The company could also become a target itself, with Teva Pharmaceutical Industries Ltd. as a possible suitor, Thrivent Financial for Lutherans said.
"Mylan has kind of been leapfrogged" by its dealmaking peers, Michael Waterhouse, a Chicago-based analyst at Morningstar Inc., said in a phone interview. "A deal is probably necessary to justify the stock price to a certain extent."
A representative for Canonsburg, Pennsylvania-based Mylan said the company had no comment.
Second Rejection
Swedish drugmaker Meda publicly rejected Mylan's advances a second time this week, saying a deal lacked sufficient support from its largest shareholder. The most recent all-stock offer was for about 43.8 billion Swedish kronor ($6.7 billion), people with knowledge of the matter said last week. That was a 50 percent premium to Meda's unaffected stock price.
Mylan's latest rejection follows a $15 billion bid for Actavis that the company spurned last May in favor of buying Warner Chilcott Plc. The all-stock purchase helped push Actavis's market value up 124 percent to $35 billion since then, compared with 70 percent for Mylan's in the same period.
Mylan also was among drugmakers that considered buying Elan Corp., which was acquired by Perrigo Co. last year, people familiar with the matter have said. It was able to buy Strides Arcolab Ltd.'s injectable drug unit Agila Specialties for less than $2 billion in December.
"Mylan is certainly not shy about wanting to grow via acquisition," David Heupel, a Minneapolis-based fund manager at Thrivent, which owns Mylan shares, said in a phone interview. Investors "know the accretion that is possible in these types of deals, and they've been waiting for something."
Stock Gains
Speculation that a large acquisition will finally happen boosted Mylan's market value by about $2.3 billion so far in 2014. The shares reached a record $57.20 on March 4.
Without a deal, "you're at risk as a shareholder for giving up some of those anticipatory gains," Elliot Wilbur, a New York-based analyst at Needham said in a phone interview. "We've watched companies such as Valeant and Actavis over the years, which have become serial acquirers, turn into some of the best-performing equities, and people believe that that's what has to be done in order to outperform."
Even Sweeter
To win Meda, Mylan may need to boost the price some or offer some cash component, according to Ronny Gal, a New York-based analyst at Bernstein. A transaction would give Mylan more specialty pharmaceutical products and expand its presence in Europe, he said in a phone interview.
Mylan has already made a compelling offer though, and continuing to chase Meda may not yield a deal, Wilbur of Needham said.
"Maybe there's just frankly no price that's good enough in order to get them to do a deal," he said. "Meda is a nice acquisition that's complementary to Mylan's business, but there's a lot of other opportunities out there."
Other possibilities could include Hikma, Akorn Inc. or Bad Vilbel, Germany-based Stada Arzneimittel AG, according to Wilbur. Akorn and Stada are about half the size of Hikma, with market values of $2.4 billion and $2.6 billion, respectively.
Irish Taxes
Mallinckrodt, which has registered headquarters in Dublin, would also be a logical target for Mylan, said David Amsellem, a New York-based analyst at Piper Jaffray. A deal would follow a tactic peers have used to cut expenses by acquiring companies in countries with lower corporate tax rates, such as Ireland.
Mallinckrodt agreed this month to acquire Questcor Pharmaceuticals Inc., whose primary drug H.P. Acthar Gel has faced controversy over its effectiveness. That planned purchase may actually make Mallinckrodt more appealing for Mylan, Amsellem said.
"It's a product that I think Mylan in a diversifying transaction should want to have, even though it has been a lightning rod," he said in a phone interview. "Mallinckrodt is one that I would really focus on right now."
A representative for Lake Forest, Illinois-based Akorn didn't respond to requests for comment. Representatives for Mallinckrodt, Stada and Hikma said the companies had no comment.
Shares of Mylan fell 0.2 percent to $50.78 today, while Meda rose 0.3 percent to 116.40 kronor. Mallinckrodt climbed 3.8 percent and Akorn increased 1.9 percent. Stada rose 1.9 percent and Hikma advanced 0.8 percent.
Mylan could also find itself on the other end of a transaction as a target, said Wilbur of Needham.
"Mylan is probably the best generic company in the U.S. in terms of operating efficiency and its regulatory track record," he said. "That's an extremely attractive platform to someone who wants to become significantly larger and immediately obtain global scale in generics."
Bigger Deals
After Pfizer Inc.'s $98.7 billion bid for AstraZeneca Plc and Valeant's about $50 billion proposal for Allergan this month, bigger deals such as a takeover of Mylan are becoming more conceivable, Heupel of Thrivent said.
Teva, which hasn't done a sizable deal since 2011, could be a buyer, Heupel said. Amsellem of Piper Jaffray said Perrigo or Valeant may also want to buy Mylan.
Valeant may face competition for Allergan, which has contacted companies including Sanofi and Johnson & Johnson to see if either would be interested in acquiring the Botox-maker, according to people with knowledge of the matter who asked not to be identified because the discussions are private.
Representatives for Valeant and Dublin-based Perrigo declined to comment, while a representative for Teva of Petach Tikva, Israel, didn't respond to a request for comment.
Deal Frenzy
Mylan's challenge in hunting for acquisition candidates is avoiding overspending, said Waterhouse of Morningstar. The surge in deal activity and speculation about the next targets have made valuations steeper, he said.
Even so, holding out too long may do a disservice to Mylan's shareholders, said Amsellem of Piper Jaffray.
"In this kind of environment, it would be folly to just stand pat," he said. "There's a lot of things that are in flux right now because of all of the deal frenzy. I think how all of this ends is a question mark, but they are positioned either as an acquirer or as a target."
Before it's here, it's on the Bloomberg Terminal.
LEARN MORE