How Women Lost Out as China's Property Market Boomed
Christina Larson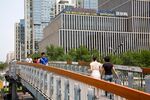 In 2005, Zhang Yuan and her husband bought an apartment in Beijing for $30,000. Seven years later, in 2012, the same apartment was worth $317,000. Zhang, a professional woman in her 30s, and her husband both contributed money to the down payment and mortgage payments. Only her husband's name appears on the property deed.
At the time the young couple bought their home, Zhang wasn't thinking much about legal formalities. Men—still regarded as the ostensible heads of households in China—have commonly registered property in their own names.
Since China's Supreme Court issued a new interpretation of the country's Marriage Law in 2011, Zhang's has had second thoughts. The law now stipulates that if a couple divorces and only one person's name is on the deed, that person—usually a "he"—walks away with full ownership of the marital home.
Since she took two years off work to care for her young child, Zhang has had trouble climbing back onto the career ladder. Today she worries more about money—and her financial dependence on her husband.
According to a 2012 Horizon Research and IFeng.com survey of homeowners in China's leading cities, men's names appear on property deeds for marital homes 80 percent of the time, while women's names appear on just 30 percent of them. "The law is so unfair to women," Zhang told sociologist Leta Hong Fincher, author of a new book, Leftover Women: The Resurgence of Gender Inequality in China.
The upshot, as Fincher's book argues, is that China's women have a claim that is tenuous, at best, to the country's burgeoning real estate wealth. "Chinese women have largely missed out on what is arguably the biggest accumulation of residential real-estate wealth in history, valued at around 3.3 times China's [gross domestic product], according to figures from the bank HSBC," she writes. "That amounted to over $27 trillion at the end of 2012."
The examples of property-deed patterns and Marriage Law interpretations favoring men are among the many instances Fincher points to in assembling her case that the position of women has regressed, not progressed, over the last 35 years. Her intention in writing the book is to "debunk the popular myth that women overall are faring well as a result of China's post-socialist, market reforms."
Remember Mao's slogan about women holding up "half the sky"? Elevating the position of women was an avowed goal both of the Communist Party and the earlier Republican Revolution that ended rule by emperors in China. Yet women today have few legal protections against domestic violence (sadly common in China), less access to male-dominated business and political networks, and often less financial and emotional support from their own families. Meanwhile "the authoritarian nature of China's one-party system has prevented a nationwide women's movement from gaining traction," writes Fincher.
Zhang probably spoke for many Chinese women when she told Fincher, "I am very worried about my future."
Before it's here, it's on the Bloomberg Terminal.
LEARN MORE