How Spirit Airlines Turned Cheap Seats and Sore Knees Into Steady Profits
by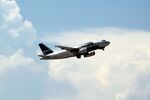 The fastest-growing airline in America mashes your knees, has zero free cups of water, presents customers a dizzying array of annoying fees, and rigorously practices what its chief executive calls "frill control." Welcome to Spirit Airlines, a seemingly incongruous story of enormous financial success and customer dissatisfaction.
The company bases its business on the notion that price trumps everything in air travel and that no matter how much passengers may howl—and yes, they complain about Spirit far more than other airlines—they will return if the price is right. "The more fares come down, the more traffic we stimulate," says Spirit Chief Executive Ben Baldanza, an industry veteran who worked for five major airlines before joining Spirit in 2005. "There's a lot of goodness in that idea."
That idea is based on an ethos of low costs, cheap fares, and high fees, a business model in which ticket prices are driven as low as possible by exterminating every possible expense and boosting revenue through extra charges for virtually everything: snacks, carry-on bags, and seat assignments. (Spirit avoids the word fee— Baldanza prefers the term "optional services.") The airline's average ticket price has declined from $94.24 in 2008 to $79.43 last year, even as non-ticket revenues per passenger soared from under $19 to nearly $54 in that period. Despite the prevalence of fees, Spirit says its total price is still lowest, at $102.02 on a length-adjusted basis, compared to $125.65 at Southwest and $152.97 at Delta.
On Tuesday, Spirit reported earnings of $37.8 million in the first quarter, a penny-per-share better than forecast, despite a nearly fourfold increase in flight cancellations due to winter storms. Sales rose 18 percent, to $438 million, from the same period in 2013. The airline has also become so predictably profitable that new routes are announced only after executives are confident that the flights will meet financial projections. In August, Spirit plans an expansion of routes from Kansas City, new to its network, along with flights from Houston.
The ultra-low cost model has proved financially successful from Budapest to Jakarta, and the U.S. has plenty of room for it to grow, especially as the new Big Four lineup of U.S. airlines boosts fares amid reduced competition. One way Spirit battles costs—and your anatomy—is with seating density: It packs 178 seats onto its Airbus A320s, 28 more than you'll encounter on the same plane flown by JetBlue and United. No Spirit seats recline.
Sore knees aside, that kind of maximized real estate—coupled with nearly 13 hours in the hour per day for each plane—gives Spirit the industry's lowest cost per seat mile, a standard airline metric. The low costs mean a bare-bones ride on Spirit. "I think we have the reluctant flyer," Baldanza conceded in a recent interview. He pointed to Spirit research indicating that about half its passengers "get" the in-flight indignities inflicted by the business model in exchange for ultra-cheap fares, while the other half are still peeved about the experience. "They want the legroom and they want a can of Coke, but they still like saving the money," he said of the latter group.

Spirit has big ambitions, too. It accounts for about 1.4 percent of the weekly U.S. seat inventory and aims to boost that proportion to 5 percent by 2022, when it plans to be flying a fleet of 143 Airbus jets. But those dry stats underplay the kind of opportunism Spirit displays when it sees an opening. Dallas-Fort Worth International—the dominant hub of American, the world's biggest airline—is a good example. Spirit began service there in May 2011 with two daily flights and predictions from many in the industry that American would squash it like a bug. But there's little overlap in terms of the passengers chased by Spirit and its full-service counterparts; Spirit is now DFW's third-largest airline by passenger traffic, after American/American Eagle and Delta. Last summer, when Spirit served two dozen nonstop routes, it even topped Delta for a time.
"We don't try to steal anybody else's traffic," Baldanza, 52, said Tuesday, during the earnings announcement. "The people on our airplanes are people who wouldn't have been on an airplane but for that fare."
Spirit boasts the U.S. industry's highest operating margins—17.1 percent last year— besting the 15.5 percent at Allegiant Travel, another ultra-low cost carrier, and 9 percent at Delta, the top financial performer among the legacy network carriers. It also has no debt, preferring to lease its jets and corporate offices near the Fort Lauderdale airport. Spirit's ancillary sales as a percentage of total revenue tops 40 percent, compared to 33 percent at Allegiant and 24 percent at Ryanair, the largest such airline in Europe. Spirit shares have gained 388 percent since its mid-2011 public offering at $12 per share.
The story all those numbers tell has made the carrier a Wall Street darling, with only one of 15 analysts rating the stock as a sell, according to Bloomberg data. "This is the most self-aware management team I have ever seen in this industry in knowing what drives consumer choice," says Wolfe Research analyst Hunter Keay.
Part of that awareness comes from realizing that Spirit can't rely on one-off customers snared by a cheap fare, who then deplane fuming. An airline's success requires repeat business. "We want repeat business because the thing that attracted you to Spirit was the fare, and we have the lowest fares of anyone," Baldanza told me in the interview last month. "So the only reason you wouldn't repeat is because we put you though so much pain you say, 'It's not worth it.'"

To forestall such conclusions, Spirit hired an advertising agency last fall to explore how it can better communicate its brand to consumers. The idea is that, on Spirit, you're not buying an airline flight as everyone understands that transaction. Spirit wants to convey its brand with the concept of airline transportation as a utility, like natural gas or Internet service. Just as no one tries to order filet mignon at Burger King, Spirit doesn't want you to expect to shove your roller bag into its overhead bin for free—it's not cheap or easy like that. The company also wants to equip its employees with more effective responses for the daily jibes they hear from irritated passengers about the fees and knee-crushing.
Baldanza has asked his advertising team to make Spirit's brand "more understandable to your customer base." And that means messages that "better align the [customer] expectation" with the business model, rather than promising any changes or improvements in the travel experience. New ad campaigns will focus on educating would-be travelers about how best to navigate the company's numerous "service options" and "how to play the game effectively," Baldanza says.
Maybe a Spirit flight could become, if not more pleasant, at least slightly more tolerable to the first-time customer. Given its performance, Spirit is poised to have plenty more of those in the coming years.
Before it's here, it's on the Bloomberg Terminal.
LEARN MORE