Harvard Business School Is Raising $1 Billion, Just Because It Can
By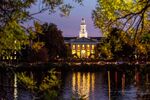 Business schools are good at raising money. Eight U.S. B-schools attracted individual gifts of $25 million or more in 2013. A handful of business schools at state universities are so well-endowed that they've turned down public money.
Even in that context, Harvard Business School's plan to raise $1 billion stands out. The campaign, which has been operating since 2012 in "quiet phase," apparently, has already brought in $600 million. That's more than the $500 million Columbia Business School has raised to pay for a new campus, and more than the $350 million campaign that Northwestern University's Kellogg School of Management announced last year.
 
Beyond the sheer amount that HBS seeks to raise, what's noteworthy is how little HBS probably needs the money. As the chart shows, HBS gets a big chunk of its annual revenue (PDF) from running non-degree executive education programs and from publishing case studies used by other business schools—revenue sources that virtually no other school can tap at that scale.

So why is HBS raising more money? To support "student financial aid, faculty research, globalization, and curricular innovation, as well as enhancements to the School's residential campus," according to a press release posted online. More likely: because it can.
Before it's here, it's on the Bloomberg Terminal.
LEARN MORE