Biggest Nordic Bank Girds for Liquidity Limits on Covered Bonds
Peter Levring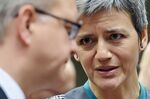 Nordea Bank AB says a fight led by Denmark to have covered bonds awarded the highest liquidity status is likely to fail.
Instead, Scandinavia's biggest bank is preparing for an outcome that turns covered bonds into second-class securities behind sovereign debt, albeit with some "special privileges," Anders Jensen, chief executive officer of Nordea's Danish unit, said in an interview.
Denmark has been lobbying the European Union to ignore a European Banking Authority proposal to limit banks' use of covered bonds in liquidity buffers. The EBA wants to uphold rules set by the Basel Committee on Banking Supervision, which describes covered bonds as Level 2 assets. The designation puts a 40 percent cap on their use in banks' liquidity reserves, and only recognizes 85 percent of their market value.
"It looks like Danish covered bonds aren't going to make it into the top Level 1 category, but that they'll get a special, privileged status within Level 2," Jensen said. "We would of course have preferred to have them categorized as Level 1, but now that it's going to be Level 2, we'll adjust our business to that."
The European Commission is due to decide on liquidity rules by June. The commission said in January it will take into account the particular strengths of Denmark's $550 billion covered bond market -- the world's biggest per capita -- as it reviews the EBA's proposal.
Margrethe Vestager, Denmark's economy minister and deputy prime minister, said yesterday she "can't say whether Danish covered bonds will be ranked Level 1 or Level 2, as talks with the commission are still ongoing. But the solution looks to be acceptable to us."
Sell-Off
"The wording we're hearing from the commission is that Level 1 needs to be reserved for sovereigns," Jensen said.
A decision to follow the EBA's proposal would risk triggering a sell-off of covered bonds, according to the Association of Danish Mortgage Banks. In Denmark, industry estimates show banks rely on the securities to meet about 70 percent of their liquidity needs. Ane Arnth Jensen, head of the Association of Danish Mortgage Banks, said in January the EBA's proposal would destroy Denmark's financial "architecture."
Yet according to Jensen at Nordea, the costs would be manageable.
"This is by no means a catastrophe, but it will entail some costs," he said. "And those costs will be felt in bond rates and will be absorbed in full by the borrower. Investors won't have the same appetite for these bonds."
The mostly AAA-rated bonds, which are backed by pools of mortgages, have offered borrowers record-low interest rates, making Danish home finance costs among the lowest in Europe.
"It's hard to estimate what the cost might be, the market will have to decide," Jensen said. "But we're not talking 25 basis points, we're talking more limited increases. There'll be investors interested in picking up the few extra basis points and that's why there's uncertainty on how this will affect the pricing."
Before it's here, it's on the Bloomberg Terminal.
LEARN MORE