pursuits
As United Shares Hit Turbulence, Its CEO Buys Big
By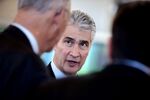 Last week was not a good one for United Airlines, which reported a crummy first-quarter loss and said its revenue underperformance relative to its industry peers would continue this summer. The stock dropped 15 percent—and that looked like a prime buying opportunity to United Chief Executive Jeff Smisek.
Smisek spent more than $792,000 on Monday to purchase 20,000 United shares at an average price of $39.62, a clear bet by the airline's leader that the current financial woes will be short-term and easily repaired. Perhaps he's banking on a summer travel season in which all airlines have reported healthy seat demand.
It was the sixth such purchase by Smisek during his tenure as chief of the nation's second-largest carrier, giving him more than $20 million in United shares. And it was also the sixth-largest insider purchase in the airline industry over the past 25 years, according to data compiled by Wolfe Research analyst Hunter Keay. The top 10 insider purchases by airline executives have returned 43 percent in the following six months, and Keay rates United outperform.
"We believe last week's conference call (and the investor anger that ensued), was an eye-opening experience for management, who has been contrite and also most importantly, not defensive about its strategy," Keay wrote Tuesday in a client note.
United shares have gained 10 percent this year, trailing the 41 percent and 34 percent advances posted by American and Delta, respectively. In 2014, the Bloomberg U.S. Airlines Index has gained 21 percent.
Before it's here, it's on the Bloomberg Terminal.
LEARN MORE