business
U.S. Treasury Seen Loser in Tax-Avoiding Pfizer Deal
Jesse Drucker and Zachary R. Mider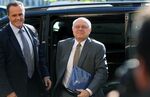 If Pfizer Inc. is successful in its $98.7 billion takeover of London-based AstraZeneca Plc, there is one big potential loser: the U.S. Treasury.
Under the proposed deal's structure, the combined company would be owned by a new U.K. parent. That doesn't mean any of New York-based Pfizer's executives would need to move abroad: Chief Executive Officer Ian Read has said the drugmaker would be run from the U.S. It does mean, however, that Pfizer is joining a wave of U.S. companies using mergers as ways to slash income tax bills by shifting their head office overseas -- often on paper only.
"This is basically an opportunity to go outside the U.S. and still sell in the U.S. and strip the tax base," said H. David Rosenbloom, an attorney at Caplin & Drysdale in Washington and director of the international tax program at New York University's school of law. "If we ever had a legislature in the United States, we could do something about this, but I don't expect to live that long."
U.S. law seeks to stop companies from avoiding income taxes by simply ditching their home residence. Those rules only prevent companies from getting the tax benefit of an overseas merger if their existing shareholders still own 80 percent or more of the company's stock after the deal.
In Pfizer's case, shareholders likely would own less than that proportion of the new combined company.
Tax Benefits
By switching its parent company from the U.S. to the U.K., Pfizer could take advantage of a number of tax benefits. The U.K. corporate tax rate is 21 percent -- next year dropping to 20 percent -- compared with 35 percent in the U.S. In addition, the U.K. only taxes profits that companies say are earned within the country.
So earnings attributed to subsidiaries in tax havens aren't then taxed when they are brought home. And the newest benefit: the U.K. is phasing in a 10 percent tax rate on profits attributed to U.K. patents, a big source of income for any drugmaker.
"The way we're structuring this is, it's fully compliant with the appropriate laws," Pfizer CEO Read told analysts on a call today. "It's in my future responsibility to maximum return to shareholders, and I don't actually see that is a conflict of with the interest of the U.S. government."
Last year, Pfizer reported an effective tax rate of 27 percent.
More Inversions
The U.S. Congress tried to impose a moratorium on such corporate moves overseas -- called inversions -- in 2002. Two years later, it passed legislation designed to limit that practice.
Nevertheless, since 2012, at least 15 large companies have either moved or announced plans to move offshore, including Chiquita Brands International Inc., the Charlotte, North Carolina-based banana importer, and New York-based Omnicom Group Inc., the largest U.S. advertising firm.
Congress has responded much more quietly to the current wave of inversions than to those that occurred in 2001 and 2002.
President Barack Obama has proposed lowering the 80 percent threshold to 50 percent. That plan has gone nowhere in Congress. Instead, U.S. lawmakers have focused on international tax policy changes as part of a broader -- and stalled -- effort to revamp the entire tax code.
'Comprehensive Reform'
"Actions like this demonstrate the urgency for tax reform," said Lindsey Held, a spokeswoman for Senate Finance Committee Chairman Ron Wyden, an Oregon Democrat. "Now is the time to undertake comprehensive reform to ensure our country stays competitive on a global stage and continues to be the best place for corporate investment."
Senator Charles Grassley, an Iowa Republican who helped write the 2004 law curtailing inversions, blamed the U.S. tax code itself.
"This is another example of our anti-competitive tax code's pushing companies overseas," he said in a statement today. "Until we can reform our tax code so we have a more globally competitive system, businesses will seek ways to limit their taxes in the United States in favor of foreign tax systems."
'Land Grab'
The inversion trend is particularly popular among pharmaceutical companies, which account for six recent deals, including Actavis Plc and Perrigo Co. Gregg Gilbert, a Bank of America Corp. drug analyst, dubbed it a "tax rate land grab."
U.S. companies avoid taxes by attributing profits to their overseas operations. If they bring those profits back to the U.S., they must pay taxes at the 35 percent corporate tax rate, with a credit for foreign taxes already paid.
The foreign units of U.S. companies have stockpiled about $2 trillion in profits on which they have paid no U.S. tax. Much of that is recorded in tax havens like Bermuda and the Cayman Islands that levy no corporate income tax, which helps to cut their worldwide bills.
Pfizer has accumulated $69 billion of earnings in its offshore units, untaxed by the U.S. That has led some analysts to speculate that Pfizer would seek to use some of its cash to buy foreign companies.
The company may not be able to tap into that pile to finance the cash portion of the deal without subjecting the cash to immediate U.S. corporate income tax.
(Updates with Read comment starting in eighth paragraph.)
Before it's here, it's on the Bloomberg Terminal.
LEARN MORE