STMicro Posts Smaller-Than-Predicted Loss on Economic Growth
Marie Mawad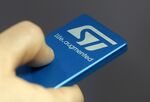 STMicroelectronics NV, Europe's largest semiconductor maker, said revenue and profitability will pick up as the economy improves and helps make up for business lost after a wireless venture with Ericsson AB was shut down last year.
The loss in the first three months, the 10th consecutive quarterly loss, narrowed to $24 million and revenue shrank 9.4 percent from the previous three months to $1.83 billion, STMicroelectronics said in a statement. The loss was smaller than the $26.9 million projected by analysts, who also forecast sales of $1.84 billion on average, according to data compiled by Bloomberg.
STMicroelectronics has tallied more than $1.6 billion in losses in the past two years as it tried to restructure its venture with Ericsson. Gradually abandoning the venture's products, while STMicro refocuses on new segments and tries to tap new clients, will continue to affect second-quarter earnings, Chief Executive Officer Carlo Bozotti said on a conference call with reporters.
"We see a good recovery," he said. Economic growth will help STMicro boost sales and stem losses, as it switches focus to fast-growing products like power management, microcontrollers and sensors, used in segments from smartphones to cars and industrial machinery, Bozotti said.
Shares of STMicroelectronics rose 1 percent to 6.83 euros at 12:18 p.m. in Paris trading. Before today they had gained 15.9 percent this year, compared with a 3.8 percent advance for the CAC 40 index in Paris.
Sales Forecast
The company, based in Geneva, said sales will increase about 2 percent in the second quarter from the first, plus or minus 3.5 percentage points, and gross margin will widen to 33.6 percent, plus or minus 2 percentage points, compared with 32.8 percent in the first quarter.
"These performances look like a positive step toward an enduring improvement in the group's profitability," Stephane Houri, an analyst at Natixis, wrote in a note. "The second-quarter guidance, despite pointing to sales marginally short of expectations, is showing, for the first time in quite a while, a better-than-expected improvement in the gross margin."
Paul Grimme, head of Europe, Middle East and Africa at STMicroelectronics, said in a February interview that customers in Europe were starting to expect improvement in the economy after months of grim prospects, helping stabilize demand in the region, where the company makes about a quarter of its sales.
European Trend
"We are encouraged by the positive trend in Europe on both the automotive and industrial segments," Bozotti said in an interview on Bloomberg Television today. "Will Europe be better this year? This is clearly the visibility we have today."
STMicroelectronics had projected in January that first-quarter revenue would decrease about 9.5 percent on a sequential basis, plus or minus 3.5 percentage points, and gross margin would be about 32.4 percent, plus or minus 2 percentage points.
Rivals have reported mixed earnings and forecasts this month. Texas Instruments Inc., the largest maker of analog semiconductors, last week predicted second-quarter profit that may exceed analysts' estimates as demand increases for chips used in cellular networks.
Qualcomm Inc., the world's largest mobile-phone chipmaker, this month issued forecasts short of some analysts' estimates, citing weaker phone sales in China. Intel Corp. also faced a setback in the first quarter in its push to get into chips for phones and tablets as its mobile unit generated losses.
Operations Chief
STMicroelectronics said in a separate release that Jean-Marc Chery will take on the role of chief operating officer, a position that had remained unfilled since former COO Didier Lamouche was moved to the ST-Ericsson venture and later quit in March 2013. Chery previously headed the unit that makes products including microcontrollers and semiconductors for consumer electronics.
The company also said its board has offered CEO Bozotti another three-year term in the top job, according to the resolutions due to be submitted for shareholder approval during the company's annual meeting on June 13. Shareholders will also vote on the distribution of a 10-cent dividend in the second and third quarters.
Before it's here, it's on the Bloomberg Terminal.
LEARN MORE