Red Roof Inn and the Blurred Lines of Budget Hotels
by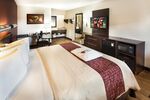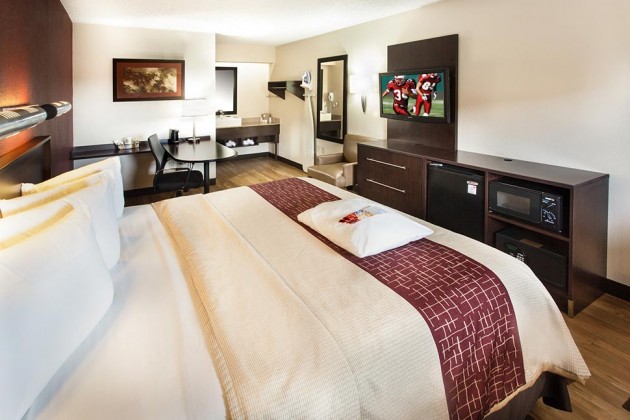 For Andrew Alexander, president of the Red Roof Inn budget hotel chain, a $24 strip of electrical outlets proved to be the killer room addition.
That wasn't the only change Alexander made as part of a sweeping renovation following the company's default nearly five years ago. At dozens of Red Roof Inn locations, the company ripped up carpet and installed faux-wood flooring, replaced old countertops with granite surfaces, changed out the sinks, switched to larger flat-screen televisions and higher-quality beds, and began doling out free snack boxes to guests. The cost to upgrade each room runs as high as $10,000—and nowhere has the return on investment been better than those inexpensive power strips fitted on nightstands. "Can you imagine all those people in fancy hotel rooms crawling around the floor looking for a plug?" says a bemused Alexander, a former corporate attorney. "Everyone travels with their gadgets."
The Red Roof Plus+ concept debuted at 31 properties this spring, with nine more upgrades planned by yearend. Ultimately, the chain expects to have as many as one-quarter of its 360 properties converted to the new design. The privately held company says the new rooms cost an average daily rate of $72, or 8 percent above pre-renovation rates, and the upgrades have led to increased occupancy of about seven additional rooms per night at the revamped properties.
The average daily hotel room rate across the U.S. was $112 in the first quarter, according to lodging research firm STR, almost twice Red Roof Inn's average room rate. There's a limit to how far upmarket the brand will go. "We are not about amenity creep," Alexander says. "We are not about throwing things at our customers that they don't want."
Across the budget hotel sector, however, amenities are on the rise, from free Wi-Fi to nicer pillows. Since the 2008 financial crisis decimated the hospitality industry, budget chains such as Wyndham Worldwide's Days Inn and Super 8 and Choice Hotels International's Quality and Comfort Inn brands have been making strategic investments aimed at boosting room rates without alienating their core customers: families on vacation, truckers, small-business travelers, and the self-employed. The trend is being driven by travelers who insist that a hotel—even at the budget end—offer the comforts of home, says Red Roof Inn's chief marketing officer, Marina MacDonald.
That has led to some blurring of the lines between budget and midrange brands, such as Hilton Worldwide Holdings' Hampton Inn and La Quinta Inns & Suites. It has also "left economy to a hodgepodge" of brands with varying levels of consistency, Alexander says, creating a new opportunity for Red Roof Inn. "You want consistency of quality, and our competitors are not delivering that."
Red Roof Inn's sale by Accor in 2007 was among the last of the big buyout deals before the financial crisis, a $1.3 billion transaction led by Citigroup's Global Special Situations Group. The chain collapsed into default two years later amid more than $350 million in debt payments it was unable to make. It's now owned by three real estate investment firms: Dune Capital Management, Five Mile Capital Partners, and Westmont Hospitality Group.
The Columbus (Ohio)-based company owns nearly half its properties and franchises the rest, a higher ratio than many of its budget rivals. Over time, as Red Roof Inn seeks to expand to 500 properties next year and 600 in subsequent years, it is likely to have more franchisees. The company also needs to add properties west of the Mississippi River, Alexander says, given its meager footprint there.
Before it's here, it's on the Bloomberg Terminal.
LEARN MORE